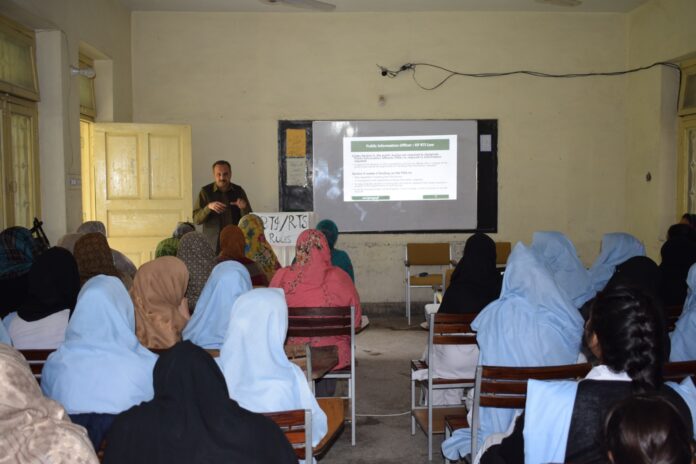 PESHAWAR: Khyber Pakhtunkhwa Right to Information (RTI) Commission has yet again emphasized the role of students and educated citizens in ensuring social well-being by using their right to access information laws for good governance and transparency in public institutions.
During an awareness program on the Access to Information Act organized at Government Girls Degree College Dabgari Garden here on Tuesday, Syed Saadat Jahan, KP Information Commission Assistant Director Communication, said that students and educated citizens can play a vital role in ensuring transparency and good governance in public sector institutions, and they're an important share in holding institutions accountable by using access to information laws.
The program was attended by the principal and faculty members of the said college as well as students in large numbers.
Also Read: "RTI Commission losing the trust of masses"
He further said that students can play their role in the transparency of admission and job selection procedures in educational institutions by using the Access to Information Act.
Syed Saadat Jahan further said that the Information Commission provides the facility of online complaints to the citizens to collect any data or information about the institutions.
He said that if any public institution did not provide you with the required information on time, you can file a complaint with the Information Commission through the online facility even sitting at home without any fear.
It's pertinent to mention that K-P became the first province to have implemented the RTI as a law in December 2013 after the bill was unanimously passed by the Provincial Assembly on October 31, 2013.
Hits: 7