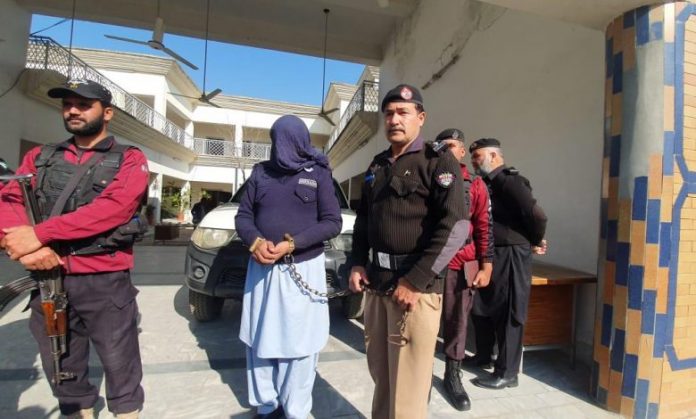 Swabi police have arrested an accused for killing the guard of National Bank of Pakistan in Zaida area of the district and looting Rs 10 million in cash within a few hours of the occurrence and recovered the looted amount.
Police have also recovered the weapon used in the crime and digital video records.
A spokesperson for the Swabi police said that they had received report regarding the murder of a bank guard on Saturday morning. He said that a police team immediately rushed to the NBP Zaida branch and also District Police Officer Swabi Najamul Hasnian Liaqat also visited the crime scene.
Police said that bank's manger Akhtarullah reported to the Zaida police station that he was informed by the branch security that bank's gate was open in the morning and security guard on duty Fazlur Rehman was found dead inside.
"Upon reaching the bank branch, I found the guard dead and DVR of the CCTV cameras also missing," he said.
However, he said that bank's safe locker room was properly padlocked and there were no signs; however, upon checking the safe locker, they found Rs 10 million in cash missing," he said.
Zaida police station has filed an FIR following the manger report and started investigations and a team comprising SP Investigation Swabi Muhammad Fayyaz, DSP Swabi Farooq Zaman, SHO Zaida Nazim Khan and other officias was constituted.
The investigation team following hectic probe arrested an accused identified as Makhdoom, a resident of Panj Pir area. He said that during the interrogation it was discovered that the accused Makhdoom was the supervisor of the security guards and he went to the branch during the night and entered the branch after talking to the guard.
The official said that the accused shot dead the guard and used duplicate keys to open the safe locker and escaped with Rs 10 million in cash.
He said that the police have recovered the stolen money, stolen DVR and weapon used in the murder from the possession of the accused.
Hits: 26