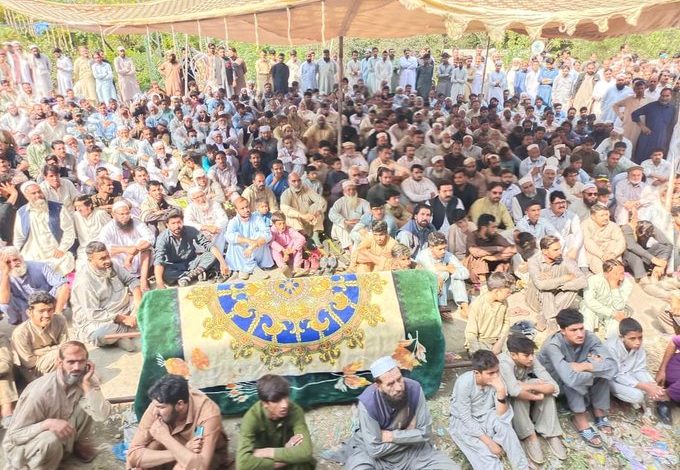 Protesters in Swat district have ended their two days long sit-in after successful talks with authorities and slain driver whose murder has led to the protest was laid to rest.
The authorities assured the protesters of arrest of murderer of the driver and also agreed to give Shuhada Package to his heirs. Media reports said that authorities and local elders have signed an agreement where district administration has also agreed to pay the expenses of the slain driver.
The driver was killed when unidentified attackers opened fire on a school van in Gulibagh area of Charbagh tehsil of Swat, which had prompted the locals to stage a sit-in along with the body of slain on Kalam Mingora Road. The sit-in lasted more than a day. The slain driver was identified as Hussain Ahmed while two students of Swat Public School identified as Azhar Hussain, a resident of Dir and Safiullah of Chitral were injured in the firing.
A team comprising police and district administration officials earlier could not persuade the locals to end the protest.
Earlier on Tuesday, locals under the banner of the Private Schools Management Association had taken to the streets to protest the rising incidents of lawlessness in Swat. The protesters had also blocked many roads in Charbagh and Khawazakhela tehsils of the district.
Though locals have blamed the outlawed Tehrik Taliban Pakistan for carrying out the attack; however, the outfit has denied responsibility.
On the other hand, Swat Ulusi Pasun had also given call for protest at Nishat Chowk and the protest was attended by the Awami National Party Khyber Pakhtunkhwa President Aimal Wali Khan, Sardar Hussain Babak, Jamaat Ismali Mushtaq Ahmed and Pashtun Tahaffuz Movement leader Manzoor Pashteen.
The protesters at this occasion chanted slogans in favor of peace and against terrorism and demanded authorities to maintain law and order. On the other hand, private schools of the district remained closed in protest against the terrorism.
The attack targeting the school van brought back the painful memories of the Taliban targeting of Nobel leurate Malala Yousafzai, who was also targeted inside a school van on October 9, 2012.
Swat district has over past some weeks has witnessed a surge in terrorism incidents. Earlier last week, treasury and opposition members in Senate had also warned about rising incidents of the terrorism by TTP.
Similarly, interior ministry had also issued threat alert about uptick in terrorist activities of TTP and its affiliates following the deadlock in the talks.
Earlier last month, a protest had erupted in Swat over the reported presence of militants in the mountains of the district.
Hits: 102