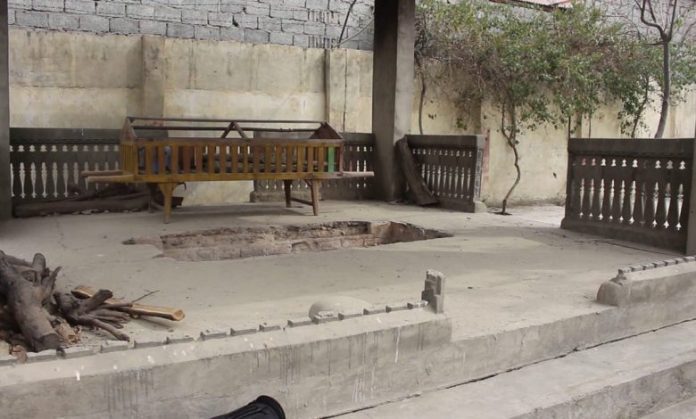 Shahzad Naveed
Hundreds of Sikh residents Swat have finally got a crematorium after local Muslim provided land at discounted prices for the purpose.
The crematorium has been setup on the Bypass Road near River Swat. Before the construction of this crematorium, Swat Sikhs were facing problems in performing last rites of their dead. On the other hand, local communities were reluctant to provide land for the purpose, forcing the community to perform last rites of dead in open next to River Swat.
Bansri Lal, Sikh community head garanthi told TNN that minority community of the Mingora city had no crematorium for about 40 years and they used to offer the last rites of the dead near River Swat. He said that a few times, local Muslims allowed them to their agricultural lands for the cremation of the dead; however, some other Muslims believed that it was not permissible to consume the produce of those tracts of the lands used for cremation.
He said that later with the assistance of government, they purchased a kanal of land near River Swat at the cost of Rs 660,000, where the crematorium has now been setup.
Mr Lal said that local Hindu and Sikh community needed a crematorium to offer final rites of their dead. He said that both the Muslim and Sikh community joined hands to provide the crematorium.
"Now local Hindus and Sikhs can easily offer the final rites of their dead," he said.
However, he said that though they were facing some cultural issues due to being minority like rest of province; however, minorities everywhere faced similar issues. "We are addressing such problems in Swat with brotherhood," he said.
Sikhs in Swat
Mr Lal said that their history in the district was about 200 years old and their forefathers migrated to Swat for business. He said that since then both the Sikhs and Muslim communities were peacefully living.
Dr Fazal Khaliq, a local historian said that history of Swat minorities was very old. In the past minorities used to live in Upper Swat and on banks of River Swat; however, when Mian Gul Abdul Wadud was made the Swat' state ruler, Sikh living on the banks of the river migrated and started living in Mingora.
"Swat peace was exemplary at that time," he said.
Most of the Swat Sikhs are associated with business and there are three gurduwaras in the districts: two of which are in Mingora and one in Khawazakhela and three crematoriums with one each in Mingora, Khawazakhela and Barikot areas.
Bomi Singh, a local told TNN that their ancestors were offered to go to India if they wished so; however, he said that they refused this offer due to peace of the area.
The need for peaceful co-existence
Jemaima Afridi, a journalist said that Pakistan constitution provides security of religion and worship.
She said that both the Sikh and Muslims in Swat were peacefully living with each other. Ms Afridi proposed that seminar and awareness sessions should be held to raise awareness about human rights and peaceful co-existence.
Tabbasum Adnan, a human rights activist said that quota for minorities in government jobs needed to be increased as current quota was too little.
Besides, she said that many of the unfortunate incidents related to minorities took place due to lack of awareness regarding their rights. Spreading awareness will helping curbing such incidents, she said.
Besides, she said that crematorium jointly constructed by the Sikhs and Hindus was a testimony to the religious freedoms and peace co-existence and showed that minorities were peacefully living their lives in Swat.
Hits: 85