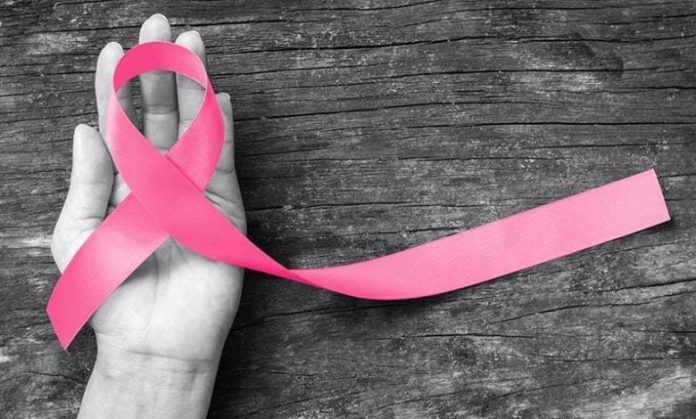 Muhammad Faheem
Many of Pakistani women are dying due to late stage diagnosis of breast cancer stemming from taboo and socio-cultural barriers that prevent them from seeking medical help.
Health experts are of the view that obesity, late marriage and having first child after 35 years were among some of the most common causes of breast cancer. On the other hand, women feel embarrassed and feel reluctant to talk about their pain and symptoms, which often makes the breast cancer worse and by they decide to approach a doctor, it is too late.
Dr Nayab Khan, an oncologist at the Northwest Hospital Peshawar said that any abnormal changes around the breast can be an early sign of cancer, so women should not ignore them and immediately consult a doctor.
"Women between the ages of 20 and 40 years should have their own examination and if possible go to the doctor for screening once in three years whereas women over 40 years of age should go for screening once in a year," she said.
She said that women should immediately approach a doctor in case of developing lumps or boils on the skin and abnormal discharge from the nipples.
Dr Khan said that more than 75 per cent of the breast cancer cases in KP were reported from rural areas among aged women.
She said that most of women feel embarrassed to talk about lumps in the breast or watery and bloody discharges, which makes the situation even worse.
However, medical experts state that breast cancer was not caused by a single cause; it is about controlling the body's ability to control the growth of a cell group.
On the other hand, pregnancy associated breast cancer (PABC) during pregnancy affects approximately one in 3,000 pregnant women and is the second most common disease affecting pregnant women.
The expert said that PABC is very aggressive cancer and could happen to anyone. Besides, its aggressiveness is due to the hormonal changes taking place due to pregnancy.
According to experts, the incidence of PABC was on the rise due to the delay in childbirth while some risk factors were related to lifestyle, including birth control pills, non-menstrual periods. Causes include age-related hormone therapy, having children, being overweight or obese, and not being physically active.
However, the experts also point out that having one or more risk factors does not mean that a woman will develop breast cancer. On the other hand, research has shown that only five per cent of breast cancers were due to genetics. Therefore, in case of family history, women should get genetic testing because they have a higher risk of getting cancer.
The main risk factors for breast cancer include aging woman as most breast cancers were detected in women 40 years and older. Uncontrolled factors that may increase the risk include changes in personal or family history, race, breast density, and menstrual history.
In addition to this, various countries around the world ran different screening programs based on the spread of the disease. However, depending on genetic and family history, breast cancer can occur even at an early age, so women should be screened at an early age. However, mammogram was not the only option and there were other ways of breast cancer screening.
Dr Samra Iftikhar, oncologist specializing in breast cancer timely diagnosis made cure easy. She said that due to delayed diagnosis, the illnesses spreading at an alarming rate.
Dr Samra said that awareness was necessary for the prevention of breast cancer and there could not be better platform for awareness than the universities for this purpose.
She said that due to this a campaign has been launched to educate university students in the provincial capital and other areas of the province.
"Awareness is essential to reduce the rapidly growing number of cancer patients. Survival rate is very good in case of early detection," she said.
Besides, she said that a large number of Afghan women suffering from breast cancer were being treated in Peshawar hospitals. Besides a large number of women in the tribal areas of KP were also affected by the disease.
Dr Samra said that a 30-year-old girl breast cancer was diagnosed late due to family's male members' stubbornness. She said the girl life was put in jeopardy as family dithered in starting treatment.
"Decisions are made by men in this region and women's silence on breast cancer endangering their lives. If housewives, especially older women, play their part, young women can be saved," she added.
Dr Samra said that times are slowly changing and diagnosis of large number of cases was also positive step.
They are women who are coming forward to get tested, she said.
She urged the males to encourage women to get tested for breast cancer regularly.
Dr Samra said these days' female staffs were available in the all hospitals of the province. She said that if an issue is detected in early check up then they families can rush to major cities like Peshawar for further treatment.
In case of Pakistan, the death rate was very high in the country some time ago because 70 per cent of patients come for treatment in the third stage. Also majority of them lacked understanding about the illnesses due to social taboos and other socio-cultural factors.
Doctors' point out that there were five stages in breast cancer including zero, first and second stage were where those diagnosed with cancer most likely to survive, but third and fourth stage were extremely dangerous with chances of survival at this stage being slim.
Poor healthcare system in Pakistan, absence of health facilities and female consultants coupled with financial problems were some of the main obstacles to screening, early diagnosis and treatment of patients.
In addition to this, there was no national cancer registry in Pakistan which necessitated local experimental research on breast cancer.
It is estimated that 90,000 women in Pakistan were diagnosed with breast cancer every year and about 40,000 being late stage, where it is very difficult to save their lives.
According to experts, breast cancer was 100 percent curable and many patients were living a successful life after treatment with early diagnosis being most crucial factor in this.
Around 40,000 women die of breast cancer in Pakistan every year
Pakistan has 40,000 women dying from breast cancer, which was the highest in Asia.
In addition to this, figures show that 10 million women in Pakistan were at risk of breast cancer, meaning that one in 10 women in Pakistan was at risk.
Hits: 77