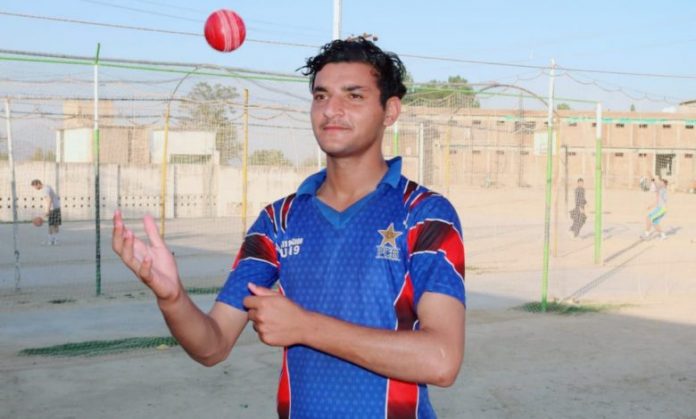 Misbahuddin Utmani
KHAR: Talented left-arm spinner from Bajuar Jawad Ali can't believe he has been dropped from the district Under-19 team.
Jawad said he was sitting with his mother when he received a message that he has been dropped from the team. He said he is unable to understand why he was dropped after initial selection.
Jawad told TNN that the trials for the Under-19 team were held by the Pakistan Cricket Board (PCB) in July and he was named among the initially selected 35 players. However, he said, 29 of them were dropped later on as they were overage, but he was not dropped because he was 17 years old.
The talented cricketer said when final 15-member squad was announced, his name was missing from it.
"I could not control tears when I came to know about it. My mother was worried and asked me what happened, but I had no reply and just walked away," Jawad said.
He said he wasn't told the reason behind being left out. He said three outsiders have also been named in the Bajaur district squad. He said he was practising at least seven hours a day to be ready for regional competition, but he was unlucky to miss out. However, he said he would never give up and continue his good game to achieve his targets.
According to new selection rules, a four-member committee visits different districts and selects Under-19 players. Those who are later found to be overage are dropped.
Bajaur Sports Board president Iqbal Hussain, when contacted, said previously there were district level associations to select teams, but now committees have been formed with no powers and cannot make improvement even if they desires so. He said coronavirus restrictions also caused problems as those players who had objections over selection were called and their grievances were heard, but this time, it was not done.
KP Cricket Association Chairman Anwar Zeb Khan told TNN that overage players have been dropped after tests by specialist doctor in Shaukat Khanum Hospital Lahore. He said the number of Under-19 players in Bajaur was less, so it was decided that surplus players with other districts may be adjusted there. He said left out cricketers have a right to file appeal with the PCB.
Hits: 6