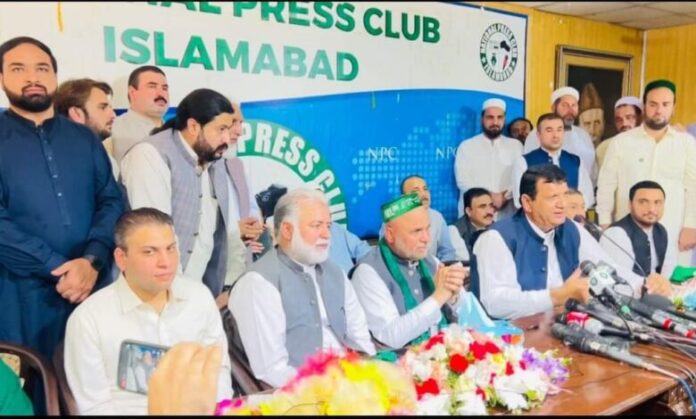 Aftab Mohmand
The Tehreek-e-Islahat Pakistan, a political party representing the newly merged districts of Khyber Pakhtunkhwa (KP), has announced its decision to join the Pakistan Muslim League Nawaz (PML-N).
During a press conference held at Islamabad's National Press Club, Al-Hajj Shah Jee Gul Afridi, the head of Tehreek-e-Islahat, along with Ameer Muqam, the provincial president of PML-N KP, and other leaders, made the official announcement of their party's affiliation with PML-N.
Zahid Kokikhel, the spokesperson of Pakistan Tehreek-e-Islahat, informed TNN that his party received an invitation to join PML-N, leading to a regular meeting of the party in Jamrud last week. During the meeting, the Kokikhel tribe's leaders and party workers were consulted, and it was unanimously decided to join PML-N, as announced today.
Also Read: Lack of Higher Secondary Schools Hinders Education for Students in Central Kurram
According to Zahid Kokikhel, Alhaj Shah Jee Gul believes that PML-N played a crucial role in supporting FATA reforms during the integration of FATA in 2018. He also emphasized the significant contributions of PML-N leader Nawaz Sharif to Pakistan's progress and development, considering him the nation's only hope for achieving prosperity and reclaiming its position as the "Asian Tiger."
Zahid Kokikhel further stated that after Tehreek-e-Islahat's association with PML-N, the government formed in KP will be led by PML-N. Many individuals, regardless of their family background in politics, are aligned with Alhaj Shah Jee Gul and have expressed their intention to join PML-N.
It is worth noting that before the 2013 general elections, Alhaj Shah Jee Gul organized a gathering in Jamrud, where he announced his entry into politics with the support of the local people. As an independent candidate, he contested and won the National Assembly elections from Khyber district, defeating former federal minister Noorul Haq Qadri.
Zahid Kokikhel highlighted that in 2015, Alhaj Taj Muhammad Afridi, Shah Ji Gul's brother, was elected as a senator from the former FATA region as an independent candidate. Following the merger of FATA, the first-ever provincial assembly elections were held in the tribal districts, resulting in the election of Shafiq Sher Afridi and Bilawal Afridi from Alhaj Karwan as members of the Khyber Pakhtunkhwa Assembly. They later formed an alliance with the Balochistan Awami Party and secured a seat reserved for women, which was filled by Basirat Shinwari, a member of the provincial assembly.
Similarly, in the recent local government elections, several members, including Syed Nawab Afridi and Shah Khalid Shinwari, were elected from Jamrud and Landi Kotal.
It is essential to remember that on August 14, 2021, in Peshawar's Bagh-e-Naran, Al-Haj Karwan formally announced the establishment of a party named Pakistan Tehreek-e-Islahat, which has now become a part of PML-N.
Reacting to the significant inclusion of Alhaj Shah Jee Gul Afridi and his party in PML-N, the spokesperson of PML-N, Ikhtiar Wali, expressed his belief that PML-N would significantly strengthen its position. He stated that Khyber Pakhtunkhwa is once again becoming a stronghold for PML-N, with more affiliations expected in the coming days.
Ikhtiar Wali further emphasized that Alhaj Shah Jee Gul and his entire family have a strong parliamentary background, which will further strengthen the Parliament and the political landscape. The involvement of Alhaj Shah Jee Gul and his party will contribute to the growth and prosperity of the province.
PML-N spokesperson, Ikhtiar Wali, emphasized that Alhaj Shah Jee Gul and his entire party are known for their generosity and commitment. With their support, PML-N will work tirelessly for the development and progress of the province, addressing the needs of the people.
Hits: 54