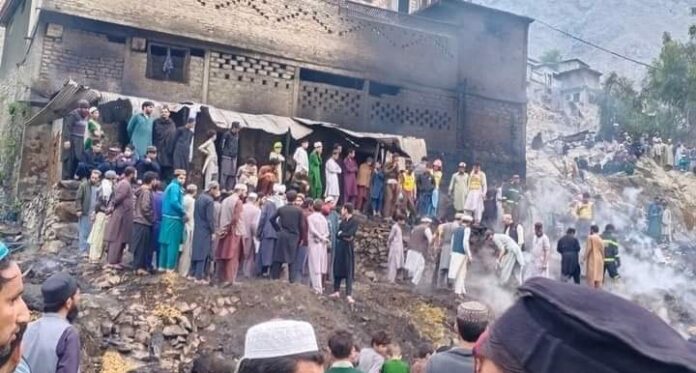 At least 10 people including eight children were burnt to death while 3 were injured when a fire erupted in a house in the Lower Kohistan district of Khyber Pakhtunkhwa (KP).
The police said, the fire incident took place last night in the house of a person named Mohammad Khan Loha in Serri Pattan area of Lower Kohistan when everyone was sleeping, but the cause of the fire could not be ascertained as per the initial reports.
As per the sources, due to the fire in the house, all the people were trapped inside, during which the roof fell on them and 13 people including children were buried under the debris.
Sources in Rescue 1122 said, the house was completely destroyed, while the dead and injured people have been pulled out from the rubble during the rescue operation.
Five girls, three boys, and two women are among the dead. The injured and dead bodies have been shifted to DHQ Hospital.
After the incident, the local people put the dead bodies on the road in protest and accused the TMA and rescue officials did not take timely rescue action, which is why the big tragedy happened.
However the rescue officials said that the intensity of the fire was very high, and all the members of the house were trapped underneath, for which they had to call in teams from Upper Kohistan and Shangla as well.
Hits: 10