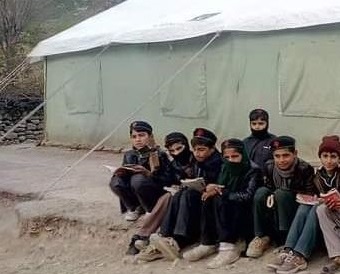 Shumaila Afridi
PESHAWAR: Musa Darra is situated in the lap of mountains in Sub-Division Hasankhel, 70 kilometres from Peshawar, where basic facilities like health, education, roads etc. are far from ideal.
The wave of terror had added to the troubles of already impoverished people. After huge sacrifices by the locals, peace was established in the area, but infrastructure development is yet to be seen.
Iqrar Afridi, a local social activist and literary figure, said while talking to TNN that no society can make development until its men and women are educated on equal lines. He said the main cause behind poverty is illiteracy and that is the main problem in merged tribal districts.
"We cannot dream of development without educating our girls," he said.
Iqrar Afridi said Musa Darra is the most backward area of the former Frontier Region Peshawar. He said it is very unfortunate that the women's literacy rate in the area is almost zero. He said the area is deprived of basic facilities of transport, health, jobs and education. He said there are one primary and one high school for boys in the entire area which are in poor condition. He said the high school was blown up by terrorists in 2012 and it is still not repaired, and students receive education in tents in extreme weather conditions.
The social activist said the literacy rate of boys in Musa Darra is about 25 to 30 percent, but girl's literacy rate is zero. He said two schools were set up for girls in the area 10 years ago with the help of a non-governmental organisation, but that could not be made functional. The government issued orders for appointment of teachers in these schools, but that could not be implemented. He said the whole generation is affected when women are illiterate.
The people of Musa Darra complain that politicians come to the area during election days with tall promises, but do nothing after coming to assemblies. They said they don't know where the funds allocated for merged districts are spent. They say the elected representatives haven't visited the area even once for resolution of problems. They demanded the government to address problems of the area to remove its sense of deprivation.
Hits: 26