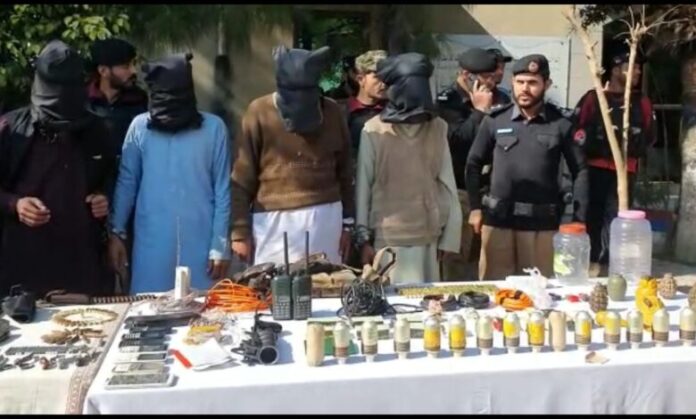 Swabi police foiled a terrorist bid and arrested four militants, recovering large cache of arms from their possession.
Addressing a press conference, regional police officer (RPO) Mardan Muhammad Ali Khan and district police officer Swabi retired capitan Najmul Hasnian Liaqat Swabi police had on January 30 eliminated two militants. RPO said that slain militant commander Izharullah was forming squads of attackers from Afghanistan. He said that these militants were involved in incidents of militancy and targeted killings of police personnel.
He said that the slain commander was in several incidents of targeted killings of police personnel, hand grenade attacks on police stations. Besides, he said that Pakistani government had announced a Rs 2 million head money on commander Izharullah.
RPO said that the same commander was behind the murders of Swabi police personnel including Mubasir Nadir, Bakhtiar, Sajid and Bakht Munir. In addition to this, he was also involved in grenade attacks on Kalu Khan and Yar Hussain police stations.
RPO said that police has also arrested four militants identified Saqib,  Abdur Rehman, Imran and Zubair. He said that these militants were planning to attack police personnel and important installations. "This militant network came to Pakistan from Afghanistan earlier in November last year.
Besides, he said that police has also recovered five kilograms of explosives, 18 hand grenades, 18 electrical detonators, 28 non-electrical detonators, 60 safety fuses and 60 feet of prima cord. Similarly, he said that police also recovered two transmitters, two receivers, a Kalashnikov rifle, a pistol, 237 cartridges of various calibers, mobile phones, two SMG magazines, 48 dry battery cells and other items.
Earlier Swabi police had shot dead two militants in the Hund area of the district on January 30. Besides, two others were militants were also killed in another operation in Hund area last week.
Hits: 20