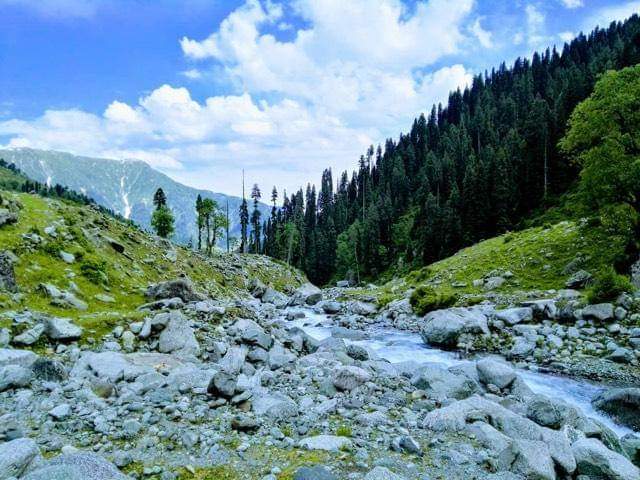 Tariq Aziz
PESHAWAR: Bonfire under the moonlight and the attractive tunes of Rabab in the picturesque Barjo Banda had mesmerised us to an extent that we forgot that such a beautiful place can also exist on earth.
The melodious voice of Afsar Afghan was adding to the beauty of the place and I along with my friends in a tourist tent were also trying to console ourselves by singing and enjoying ourselves, but off course, our voices were not so appealing.
On July 23-24, when the whole country was gripped by intense heat wave, a two-day festival was organised in Barjo Banda, the newly discovered tourist attraction in Shangla. We could not resist the temptation of visiting such an attractive place and having a break from the worldly worries. We parked our car in a house in Ajmeer and hired a taxi from there to our destination.
As the road was not in ideal condition, the taxi driver excused from moving forward and dropped us midway. We did not mind it as the situation of road was quite visible to us and started walking towards our destination considering it a blessing in disguise, as it would give us ample physical exercise. We reached Barjo Banda by walking for about half an hour.
There are a lot of tourist spots in Shangla where people don't feel the heat even during July when the plain areas of the country experience temperatures in excess of 40 degrees centigrade. Barjo Banda is situated about 23 kilometres from Shahpur. Two spots in Shangla, including Barjo Banda, have been included by the government in the list of tourist resorts with the efforts of Khyber Pakhtunkhwa Minister for Labour and Manpower Shaukat Yousafzai, who hails from Shangla.
Construction work on road from Ajmeer to Barjo Banda is continuing, and tourists are still coming in large numbers by using jeeps and Datsun pick-ups.
The two-day festival was arranged by an NGO which was participated by thousands of tourists. The weather of the area was cold even in July, and we had to take blankets during night time as we were feeling cold. There is no shortage of water at the mountains.
Those fond of hiking must note that Behram Khan Lake is situated at walking distance of four hours from this place. Hiking from Takht Danda to the lake takes about seven hours, while one can also reach Bashigram Danda with hiking of eight to nine hours.
The local people are very hospitable and welcoming and the overall environment is very peaceful.
Hits: 23