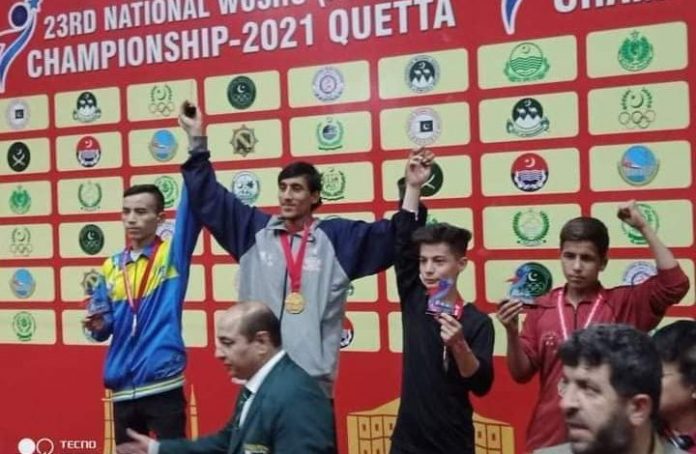 Shah Nawaz Afridi
BARA: Seventeen-year-old Jadran Afridi, who had to sell his smartphone to enable him to participate in the National Wushu Championship in Quetta, has become the first player from merged districts to win a gold medal in the competition.
Jadran Afridi said in an interview with TNN that he had to sell his smartphone and also take some loan from friends to arrange fare for travelling and entry fee of the competition. He said the government provides accommodation and food, while the rest of expenses had to be borne by players.
Tribal Marshall Arts Academy Bar Kambarkhel Director Noor Shah said Jadran Afridi trained from his academy and won the national-level competition. He said Jadran Afridi has made the entire tribal districts proud by being the first player from these areas to win gold medal in -44kg category. He said if Jadran is given international level training in China, then he is capable of winning international competitions.
Noor Shah said the players of merged districts are very talented, but lack of facilities often come in their way and halt their progress. He said another player of his academy, Abrar Afridi, won silver medal in 65kg category, and Abdus Samad won bronze medal in 70kg category. He said he had also won eight medals in different competitions, including five gold medals.
Noor Shah said it is encouraging that the Khyber Pakhtunkhwa government is increasing funding for sports activities due to which it is gradually becoming easier to train players at grassroots level.
Wushu which is mainly played in China was introduced first time in Pakistan in 1997. It was included in the National Games in Khyber Pakhtunkhwa in the year 2000.
KP Wushu Association General Secretary Najam Safi said players from four provinces, Azad Kashmir, Gilgit-Baltistan, Wapda, Army, Railways, Police and Higher Education Commission participated in the National Wushu Championship in Quetta in which players from Khyber district showed exceptional performance. He said the wushu players of KP, particularly Khyber district, are very talented.
Jadran Afridi said he belongs to a poor family in Bar Kambarkhel, Bara and he is currently a student of first year. He said he father remains at home due to health issues and his two elder brothers are labourers who contribute for household expenditure. He said despite difficult circumstances, his family supported him well, but it is very difficult for him to continue his sports training, education and other activities at the same time. He appealed to the government to support him for fulfilling his dream of winning medals for the country in international competitions.
Hits: 5