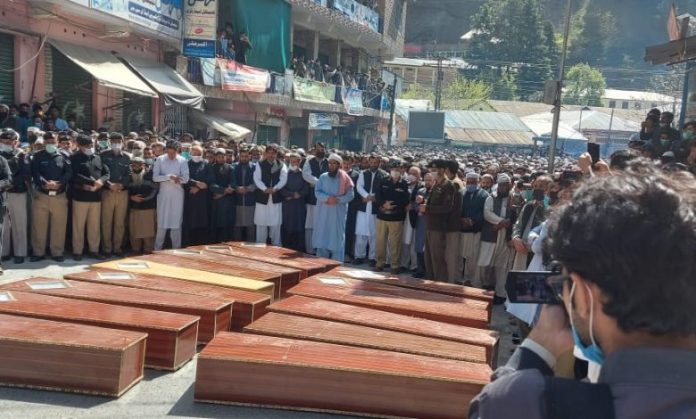 Tariq Aziz
SHANGLA: The bodies of 16 coalmine workers from Shangla which were recovered from a mass grave in Darra Adamkhel, were brought to Alpuri area of Shangla where a joint funeral was held.
These coalmine workers were kidnapped from Darra Adamkhel in 2011 and no one knew about their whereabouts for 10 years. The presence of a mass grave was reportedly pointed out by a local person after which the rescue personnel launched an operation to retrieve the bodies.
The slain miners also included five from a family from Basia village including three brothers, their uncle and cousin. When the bodies were brought to ancestral village on Saturday after funeral, the people's pain increased further after seeing adjacent graves of three brothers.
Sardar, a local youth who had come for Fateha, said while talking to TNN that the life and working conditions of coalmine workers are miserable. He said he hates the system after seeing graves of three brothers. He urged the need for a joint mechanism on part of the whole population of Shangla to avoid such gruesome incidents in future.
Noor Rehman, a relative of five deceased workers from same family, told TNN that from one angle his grief has come to an end after finally knowing about the death of his relatives. "We did not know about the whereabouts of our uncle and cousins for last 10 years, but know at least we know that they are resting in peace," he said.
Noor Rehman said the relatives made hard efforts to locate their loved ones and also spent Rs4.6 million at that time, but in vain. He said people sitting in different departments only minted money from relatives, but did not work for tracing the missing labourers. He said the relatives were so desperate that they even went to some fortune-tellers in Pakistan and Afghanistan, and they used to tell that the missing persons are alive, but could not locate them. He said the government must set up a commission to ascertain facts about the whole matter.
Noor Rehman lamented that still the relatives of the slain coalmine workers are continuing to work in coalmines because they don't have many options.
Afzal Khamosh, teacher of a young slain labourer, Sardar Hussain, said he told his student not to leave the school as he was still very young. He said Sardar's told him at that time that he could not continue education due to poverty. He said when he saw Sardar's body, he could not control his tears.
Hits: 16