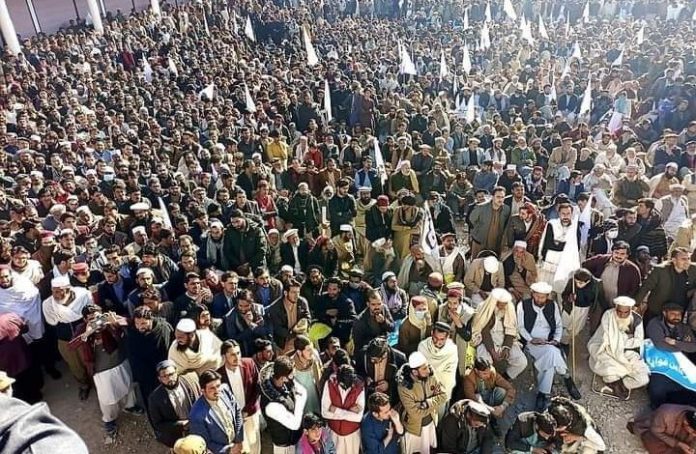 Thousands of Bajaur district residents took to streets to protest against the incidents of targeted killings, extortion and terrorism on Thursday.
The demonstration was arranged by the Bajaur Amn Action Committee to protest against the increasing incidents of the lawlessness in the district. The protest which took place in the Shinda Morr area of Khar was attended by thousands of locals.
The protesters at this occasion chanted slogans against terrorism.
A large number of locals including civil society members, lawyers,  and political workers participated in the rally.
Awami National Party's provinical general secretary Sadar Hussain Babak, Pashtun Tahffuz Movement chief Manzoor Ahmed Pashteen, MNA Mohsin Dawar, MPA Nisar Mohmand, Syed Akhundzada Chittan, Maulana Abdul Rashid, Maulana Khan Zeb, Gul Afzal, Haji Sher Bahadur, Malik Khalid Khan, Sikandar Zeb Khan, Shahabuddin Khan, Haroon Rashid, Najeebullah Khan, Malik Bahadur Shah, Malik Sultan Zeb, Qari Khairullah and other elders spoke at this occasion.
In their speeches, the speakers said that they will not tolerate militancy and terrorism in the district at any cost. "We will not allow anyone to shed blood in the district," they said.
Besides, they said that it was the responsibility of the state to protect the citizens.
The speakers said that they will not allow anyone to disrupt the peace of the district and will not hesitate from any sacrifice for the peace of the area.
Hits: 44