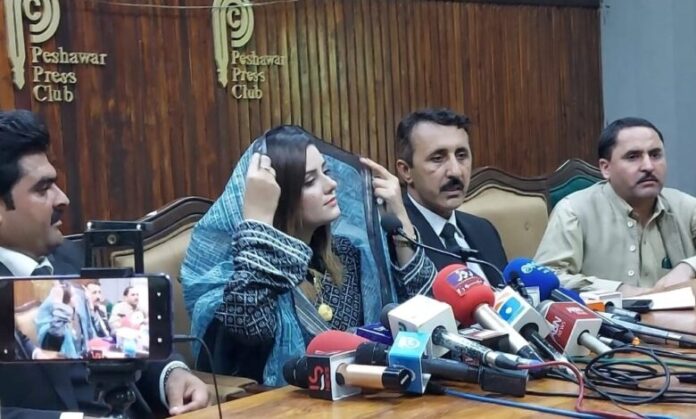 Peshawar: Famous TikToker Sandal Khattak has come forward to refute the allegations made by Hareem Shah regarding her arrest, stating that Hareem Shah is spreading false propaganda on social media. Sandal Khattak firmly denies the accusations and emphasizes that there is no truth to them.
In a press conference held at the Peshawar Press Club, Sandal Khattak, a well-known TikToker, addressed the accusations made by Hareem Shah regarding her arrest. Sandal Khattak clarified that the claims made by Hareem Shah on social media are baseless and lack any truth.
During the press conference, Sandal Khattak stated that she was not arrested in the leaked video case as alleged by Hareem Shah. Instead, she was detained for questioning regarding the accusations made by Hareem Shah of using derogatory language towards her in a live video. Sandal Khattak emphasized that she did not spend time in jail but was involved in the investigation of the case.
Also Read: Gas Leakage Explosion in Peshawar Claims Lives of Three Children
Sandal Khattak further expressed her experience during the four days of detention, mentioning that she spent the time positively by applying henna and making new friends. She also made it clear that she will go to great lengths to defend herself against Hareem Shah's allegations, as she has targeted her family.
Adding to the matter, Sandal Khattak's mother, Shamim Khattak, who was present at the press conference, revealed that the animosity between Hareem Shah and Sandal Khattak has been ongoing for the past three years. Shamim Khattak accused Hareem Shah of blackmailing her daughter, seeking friendship and companionship.
Shamim Khattak disclosed an incident where Hareem Shah visited their house during Sandal's illness and took a picture of her in a vulnerable state when her hair had fallen out due to the illness. Hareem Shah then used this picture to blackmail Sandal, threatening to make it viral on social media.
Shamim Khattak clarified that Sandal Khattak was concerned about her image and reputation as she has a significant number of followers on social media.
It is important to note that TikToker Hareem Shah had previously accused Sandal Khattak of spreading indecent videos of her on the internet.
Hits: 35