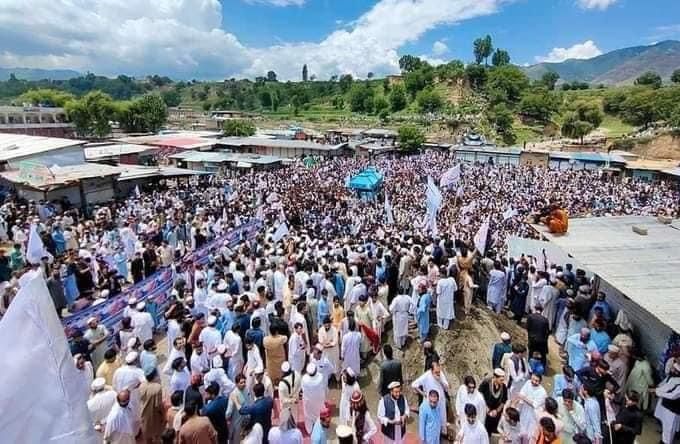 Under the auspices of the Bara political alliance in the Khyber district, a 'Tirah Aman March' was held to protest against the increasing incidents of unrest in the area. Hundreds of people from different schools of thought participated in the rally, along with local elders.
The march commenced from Bara and proceeded towards Tirah on Tuesday, culminating in Tirah Maidan where it transformed into a peaceful rally.
Addressing the participants, prominent leaders of the Afridi tribe, including Imran Afridi, Khan Wali Afridi, Chiragh Afridi, Zahidullah, Abdul Ghani Afridi, and others, expressed their concerns about the prevailing unrest in Tirah Maidan.
They emphasized that unless peace is established in the region, its repercussions would be felt not only in Khyber Pakhtunkhwa but also in other areas. Tirah, known for being the stronghold of Afridi tribes and one of the most beautiful valleys globally, has witnessed upheaval since 2010, resulting in the displacement of millions of people to Peshawar or other parts of the country, leading them to live as victims in those places.
Also Read: Anju Weds Nasrullah: Father Disapproves of Daughter's Actions
The speakers pointed out that government institutions have failed to effectively control the unrest in Khyber tribal district, particularly in Bara Tehsil. Due to the prolonged unrest in Bara, residents have suffered immense losses, including the destruction of their homes, markets, schools, hospitals, and properties, in addition to the loss of precious lives.
The leaders emphasized that they would no longer tolerate further unrest in Bara and sent a stern message to those involved in spreading turmoil that there would be no more bloodshed. They called upon the government to take necessary measures to restore peace in Bara and Tirah; otherwise, the fire of unrest might spread to Peshawar and other districts of Khyber Pakhtunkhwa.
The speakers vowed to continue their peaceful resistance within the constitutional bounds until peace is fully restored. They further announced their intention to extend their protests to Peshawar, the provincial capital of Khyber Pakhtunkhwa, and later to Islamabad if necessary.
It is pertinent to mention that during the 'Tirah Aman March,' while advocating for peace, a suicide bomber managed to escape arrest during an intelligence-based operation at Ali Masjid in Jamrud, Khyber. Subsequently, the bomber detonated himself, resulting in the tragic demise of Additional SHO of Police Station Jamrud, Adnan Afridi.
According to police officials, a suspicious person was arrested from the vicinity of the targeted mosque, possibly serving as the facilitator of the suicide attack.
It is also noteworthy that on July 20, in Khyber district, an explosion near the main gate of a police station in Bara Bazar tehsil claimed 5 lives, while 7 others, including police personnel, were injured.
Additionally, on July 18, an explosion near a Frontier Corps (FC) convoy in Peshawar's Hayatabad area left at least 6 people injured.
Hits: 55