Zubair afridi
A rich and unprecedented account of two brothers hailing from Afridi tribe has never been explored in detail although few on local level knew of their gallantry exhibited by them during the World War 1. These two historic figures were Mir Dast Afridi who was decorated with Victoria Cross by England and Mir Mast Afridi with Iron Cross by Germany. Now, how did that happen? Here is the story.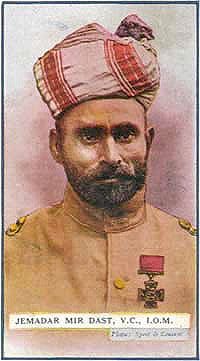 Their father Muhammad Ameer Khan had seven sons and one daughter. The elder brother Mir Dast was born in December 1874 and the younger Mir Mast was born in March,1876 respectively. Both of them were born at village Kharkay located in Tirah valley Maidan. They got their earlier education from Botan shareef seminary, where Maulana muhammad Ilyas taught them as a head teacher.
Mir Dast and Mir Mast joined British Indian Army on 23rd December, 1894 and 1898 respectively. In 1914, When almost 1.2 million Indian soldiers joined The Allied forces coalition in World War I, Mir Dast was serving in 55 Coke's Rifles, at that moment. When the First World War broke out, 55th Coke's Rifles remained in India, but during the first year, it reinforced 57th Wilde's Rifles with three hundred and thirty soldiers , forty three non commissioned officers and eight officers. Mir Dast was one of the reinforcements. Mir Dast joined this elite group meant for fighting in World War I.
Mir Dast participated in the battle of Ypres which took place near Belgium-France border area. Mir Dast fought bravely while German used chlorine gas against British soldiers on 22nd April, 1915. None of the British soldiers at Ypres had gas masks, resulting in 7,000 injuries and more than 1,100 deaths from chlorine gas asphyxiation. Mir Dast despite severe pain and injuries , and despite wave of chlorine attacks, went on to fight.
At the evening, Mir Dast, after receding attacks, took lead and start marching with remaining soldiers and won huge commendation to rescue eight Indian and British soldiers and officers for a safer place despite injuries. On 25 August, 1915 King George V personally decorated Mir Dast Afridi with Victoria Cross in Royal Pavilion military hospital , London. In addition, British empire gave him the title of "Khan Bahadur" and promoted him to the rank of Subedar
Before World War I, Indians serving in military were given only Indian order of Merit. In 1909, Mir Dast was also decorated with Indian Order of Merit, in Momand expedition.
His younger brother Mir Mast was sent to France in World War I, to fight for 58 Vaughan's Rifles. He fought at the warfront of Neuve Chapelle against Germans. He fought bravely but as turn of event may happen, during one wintery and chilling night on 4th March, 1915 , British commander came to know that 23 soldiers, from Afridi Qamberkhel tribe has abandoned their army and joined Germans. These soldiers were led by Mir Mast Afridi which shocked British Commander.
Mir Mast said that he couldn't bear the fact that he had to fight against turks and thus joined German ranks. These renegade soldiers later were transported to another city lilli away from warfront.
On 24 April, 1915 German Kaiser decorated Mir Mast for Iron Cross that is highest German gallantry award. He was sent to Turkey where he met chief religious scholar and was awarded the title of Mujahid -e- Millat and Islamic flag as emblem. Mir Mast was later dispatched to Afghanistan as a Turkish envoy in order to persuade Afghans to join fight against the Allied forces .
This mission to Afghanistan doesn't accomplish its goals. Before departing from Kabul, Mir Mast got assurance from Afghan military chief and prince Nasrullah Khan for financing military expeditions from Tirah valley in May, 1915.
Starting a military front against British got an early reaction from Commissioner Peshawar Ross Keppel , who along tribal leaders burnt Mir Mast and his companion houses. He died due to epidemic Spanish flu in 1917.
These two historic figure's descendants live at the outskirts of Peshawar in Shaghai, Warsak, where one of his great grand son Alamgir Afridi has retained historic documents of his ancestors.
End.
Hits: 186