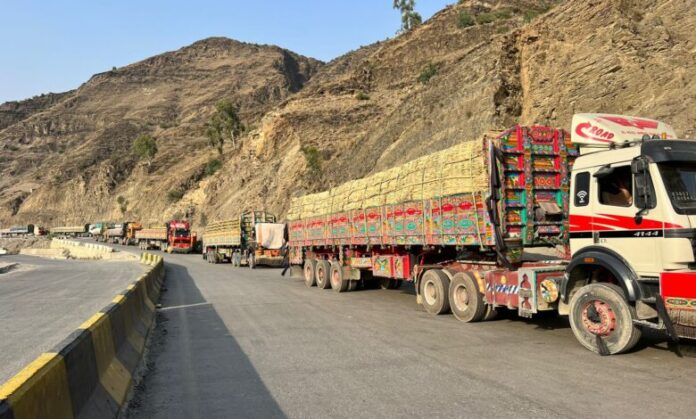 The tension gripping the Pak-Afghan Torkham border shows no sign of abating as it enters its fourth consecutive day. Security sources confirm that all forms of traffic, including commercial activities, remain suspended at this critical border crossing.
Local reports paint a grim picture of the situation, with long queues of cargo vehicles stretching for several kilometers due to the closure of the Torkham border. Thousands of vehicles find themselves stranded on both sides of this vital trade route.
Traders urgently appeal for the passage of vehicles carrying essential fresh produce, while the tension-induced closure of the Torkham market further compounds the difficulties faced by local residents.
Also Read: Devastating 6.8-Magnitude Earthquake Strikes Morocco, Leaving 632 Dead
Customs officials shed light on the significant economic impact of this prolonged border closure. On average, daily exports to Afghanistan through the Torkham border total around $2.4 million, while Afghan imports contribute an estimated Rs 60 million daily to revenue. For the past four days, the border has remained closed for trade, resulting in a substantial loss of 240 million rupees in import duties and the inability to carry out $8.16 million worth of exports to Afghanistan.
The roots of this conflict trace back to an exchange of gunfire at the Pak-Afghan Torkham border on Wednesday. Tragically, two lives were claimed in the confrontation, including that of an Afghan driver and an official. The incident was sparked when Afghan forces attempted to erect a checkpost along the border, leading to a fierce clash with Pakistani forces. In the aftermath, the authorities took the decision to shutter the Torkham border for all commercial activities and traffic.
Hits: 54