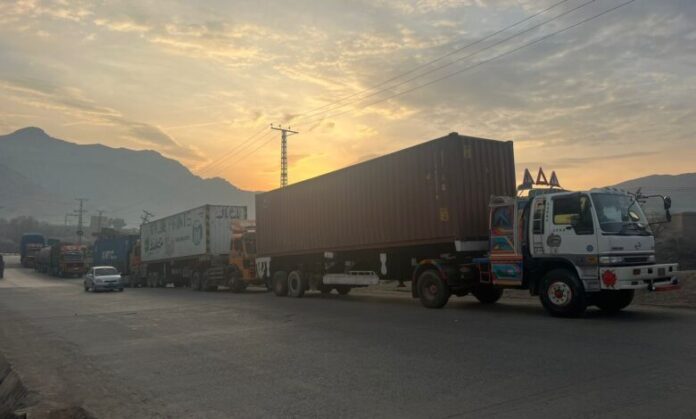 Torkham border crossing has opened for activities on Saturday morning after six days closure.
Relevant officials told TNN that the goods vehicles movement has started on both sides of the border. However, the border was opened for public on Thursday evening.
Sources said that on Thursday day when the border was reopened a large number of people crossed the border to reach their destinations.
Officials said that about 500 Pakistani stranded on Afghanistan side returned to their country while about 900 Afghans also returned to their country following the opening of the border.
The crossing of the people was allowed after a meeting of border coordination committee meeting. Both sides discussed the current situation of the border as well as opening of the crossing for those crossing it on foot as well as trade activities.
Besides, Pak-Afghan Dosti hospital was also opened after opening of the border for the public.
Officials said that the Afghan Taliban had shut down the main crossing between the both countries on February 20 over a spat over Pakistani authorities' refusal to allow attendants of the Afghan patients into the country.
Afghan Taliban wanted the Pakistani authorities to allow attendants of patients who were seeking treatment in the country. However, Pakistani authorities were not ready to allow them.
To protest the Pakistani authorities' reluctance, Afghan Taliban had shut down the main border crossing between both countries for all kinds of traffic.
The closure of the border crossing had created huge hurdles of travelers as well as the truckers, waiting to cross into both countries.
Thousands of people were on stranded on both sides of the border, while a large number of loaded vehicles, including scores of them loaded with perishable items were waiting at the border crossing to be allowed to proceed towards the destinations.
Hits: 9