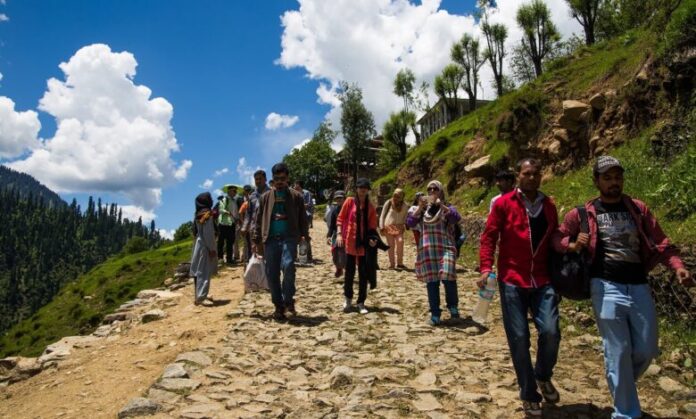 Muhammad Usman
The northern regions of Khyber Pakhtunkhwa (KP) boast picturesque green valleys, lofty mountains, refreshing springs, and untouched natural landscapes that feature captivating waterfalls, majestic peaks, serene blue lakes, and verdant valleys, all of which draw the attention of enthusiastic tourists.
The influx of tourists to Khyber Pakhtunkhwa has surged by over 1.4 million visitors this year as compared to the previous year.
According to the Khyber Pakhtunkhwa Department of Tourism, during the five-month period of 2022, from March to August, a total of 5,732,146 tourists explored the wonders of Khyber Pakhtunkhwa. This year, the number has surpassed 7.1 million, including around 2,000 foreign tourists.
Also Read: Successful Operation Kills Key Terrorists in Khyber District, Weapons Recovered
Analyzing data from the Khyber Pakhtunkhwa Tourism Authority, Naran Kaghan welcomed the highest number of tourists, reaching 2.5 million, from June to August. Additionally, Galiyat saw 2 million tourists, Malam Jabba Swat hosted 1.453 million visitors, and Upper Dir attracted 734,000 travelers. Lower Chitral experienced footfall from 341,000 tourists, while Upper Chitral was graced by 31,111 visitors.
Furthermore, as per the records of the tourism department, Lower Chitral saw a considerable foreign tourist count, with 763 international visitors in the first five months of this year. Meanwhile, the attractions of Upper Chitral drew 471 foreign tourists. Similarly, foreign tourists numbered 198 in Dir Upper, 288 in Malam Jabba, 95 in Galiyat, and 273 in Naran Kaghan.
Hits: 5