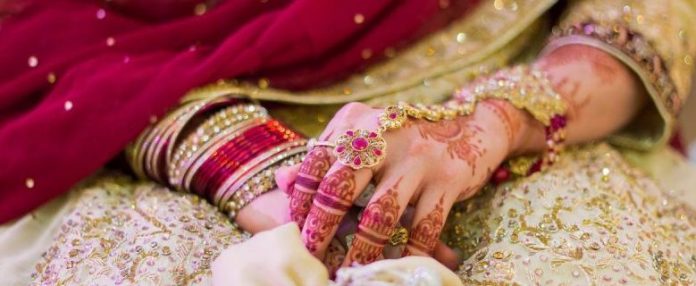 Salma Jahangir
PESHAWAR: The wedding patterns are changing fast in Pakhtun society with changing needs of time and particularly with the arrival of wedding halls, people have let go some traditions which were observed previously with great enthusiasm.
The main tradition during Pakhtun wedding was that all the close relatives were invited to the bride and groom's house several days ahead of the marriage to participate in different wedding-related ceremonies. And then a large group of relatives used to visit almost all the households in the related village and also the villages of relatives to invite women and children for marriage, while men were invited through wedding cards.
Although the practice of invitation through a group of women (Sadda) is still in practice, but the size of the group has significantly reduced and very few women now take part in this activity. Previously, Saddas (invitations) continued for several days ahead of marriage, but now it happens for a day or two just to fulfil a formality.
I remember very well when my uncle was getting married, there was a huge Sadda as he was the only brother of four sisters and they all were so happy and enthusiastic for the marriage. All of them along with their children, including me, and also other close relatives gathered for the Sadda, but when we went to the vehicle having about 15 seats for passengers, the space was very short as the number of children was much higher than the elder ones. So this problem was resolved by leaving out some of the kids, but they were visibly unhappy over it. At that time, people usually went for Saddas without informing the hosts and that was not a problem at all.
However, these things have changed now as very few relatives go for Sadda, and most times they inform relatives or friends about marriage venue and time through mobile phone. Now it has become easier to invite people for marriage as they simply take picture of a wedding card and upload it on social media page, or send it to people through WhatsApp, Facebook and other such facilities.
Hits: 16