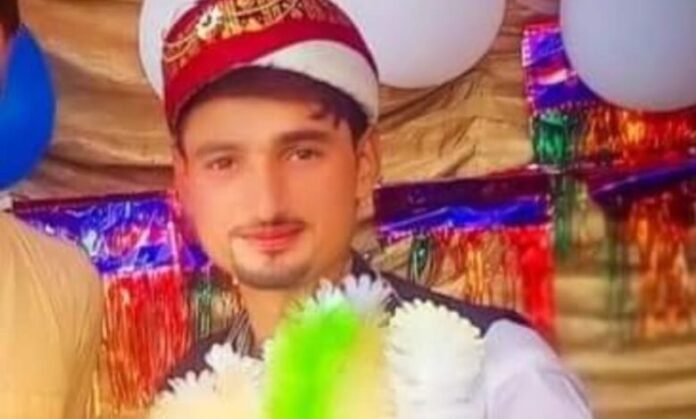 Misbah ud Din Utmani
Ijaz Ahmed, a 20-year-old carpenter by profession, was one of the 54 victims who lost their lives in the suicide blast that shook Bajaur yesterday.
Unaffiliated with any political party, Ijaz was the eldest of three brothers and had recently tied the knot just eleven days ago.
According to his uncle, Irfanullah, on the day of the blast, Ijaz went to his shop in Khar Bazaar in the morning. His friends, however, convinced him to close the shop for the day, as they all planned to go for a walk.
Ijaz, known for his exemplary character and integrity, had no political affiliations and joined his friends for the outing to the meeting place where the tragedy occurred, leaving him injured in the devastating blast.
Also Read: Terrorism is Back!
Irfanullah further shared that on the day of the blast, Ijaz's wife had returned from Mackay, but the couple hadn't met due to Ijaz's trip to the market. The last contact Ijaz had with his family was with his younger brother, shortly before the explosion. He was informed by his brother about the arrival of his sister-in-law and guests, bringing traditional food for the celebration. However, Ijaz mentioned that he would come home after a while, requesting them to save his share of the meal.
Ijaz's neighbor and close friend, Shahid, revealed that he was also injured in the blast but initially seemed to be fine, with minor injuries. He was later transferred to Peshawar by helicopter, but devastating news came shortly afterward, announcing Ijaz's martyrdom.
Shahid revealed that his own cousin was among the casualties of the explosion. Heartbroken, Ijaz's wife and other family members came to Shahid's house to offer condolences, unaware of the tragic fate that had befallen Ijaz.
After his body was brought to Bajaur from Peshawar around 1 am, his family members were informed that Ijaz was injured and brought back. The sorrowful situation at home was beyond words, with his mother and newlywed bride left in a state of shock, unable to eat or speak.
The tragic incident occurred during the workers' convention of Jamiat Ulema-e-Islam in Bajaur, resulting in 54 fatalities and leaving 78 injured, making it a day of immense grief and loss for the community.
Hits: 18