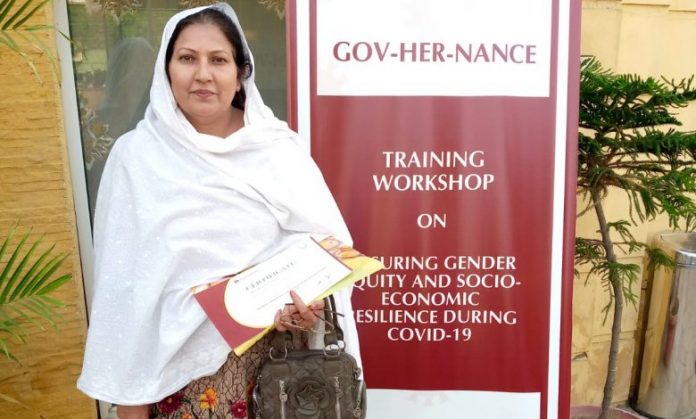 Sidra Ayan
Harindar Devi, 44, a resident of Mardan was hopeful of getting elected on minority seat in local bodies' elections.
However, Ms Devi, lacking knowledge of procedures and documentation involved for filing the nomination papers, could not submit her papers on time.
Ms Devi said that she went to government offices, getting official documents and also approached many people, seeking their help in filing her nomination papers. However, no one helped her and time for filing nomination papers lapsed.
"I wanted to contest elections to help women," she said. Ms Devi said that since there were no other women contesting on minority seats in Mardan, therefore, she was bound to be elected at any cost.
After failing to contest elections, Ms Devi has joined a local Jazba NGO working on women rights in Mardan where she also learnt the procedures for nomination papers.
"I am committed to contest elections next time and will help all those courageous women who are striving like me," she said.
Ms Devi's story of resilience
Ms Devi was a born in a rich Hindu family of Malakand division; however, her parents taught her to stand on her feet. "There was a rule in the family that all the members will earn to meet their expenses," she said.
Therefore, she learnt stitching and also learnt making drawstrings from her grandfather.
She also loved to go to school; however, her parents were against her educational pursuits. In the meanwhile, a girl's primary school opened in the area and she and her sisters started going there without the knowledge of her father.
However, when her stepmom came to know about her pursuits, she instead backed her.
When it came to her admission to a high school, her father refused to sign her documents. Ms Devi kept beseeching her father for many days to get his concurrence for education, until he yielded and signed her papers.
However, at the same time, she had to get up at 4am and complete household chores and then walk to school.
Ms Devi said that she and her two sisters and three step-brothers used to get up at 4am and made breakfast, done the dishes and cleaning before leaving for school.
However, when she was in Ms Devi was in class VIII, her parents accept a marriage proposal for her and a year later she was married off at the age of 15 years.
The marriage turned out to be bed of thorns for Ms Devi, as her husband was a drug addict and used to curse and beat her all the time. She had to put with the abuse, as her family told her to not come back to them.
Relocation and further troubles
Her husband also sold her jewelry. Besides, he also sold his home to repay his Rs 1.4 million debt and shifted to Peshawar, where he rented a flat at third floor of building.
Ms Devi was pregnant at that time and used to climb three floors to fetch water and other household chores several times a day, while her husband spend his days in a stupor caused by the drug abuse.
She gave birth to a son and a daughter; however, her situation did not improve.
She asked her brother in law to help her with some home based job and she started packing spices at home. However, later it turned out that he was also fleecing her.
They shifted to Mardan about eight years later. She gave birth to another son. Her husband suffered paralysis sometimes after relocating to Mardan, burdening her with the additional responsibility of her treatment and care.
He died some time later and she also had to take up the responsibility of the father for the children.
She did everything in her power to educate her children and meet household expenses. Ms Devi worked as surveyor, engaged in polio duty and attended workshops and married off her daughter.
When the local bodies' elections were announced, she thought of helping women like her after elections. However, she failed to enter the electoral fray due to her ignorance about procedures. However, Ms Devi said that she is sure of contesting and winning next polls.
Hits: 28