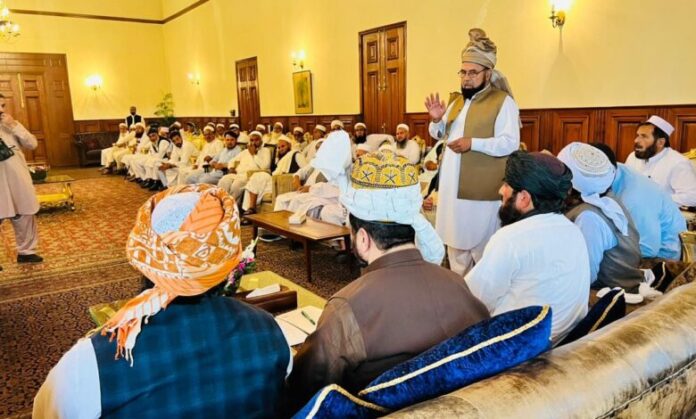 Peshawar: The tribal elders from the border districts have appealed to Governor Haji Ghulam Ali of Khyber Pakhtunkhwa to address the traffic congestion at the Pak-Afghan border. Today, a 65-member Jirga representing the tribal districts met with Governor Haji Ghulam Ali to present their concerns.
The Jirga emphasized the importance of smooth movement between the people residing on both sides of the Pak-Afghan border, as they frequently cross the border for various occasions and events. They urged for improved facilitation at the border to ease this process.
Additionally, the Jirga highlighted the challenges faced by the people of Mohmand district in areas such as electricity, healthcare, education, and other sectors. They shared the difficulties and problems experienced by the locals in these essential areas.
Also Read: Trailblazing Female DPO of KP Wins International Policing Award
In response, the governor assured the tribal elders that concerted efforts are underway to address the backwardness prevalent in the merged districts. The Prime Minister has established a steering committee dedicated to the development and integration of these districts. Furthermore, the governor himself is actively working to devolve powers and allocate funds to elected representatives of the local bodies.
He acknowledged the previous government's failure to transfer powers to the local government representatives in the province's administrative and amalgamated districts. However, the governor expressed a strong commitment to leading the merged districts toward progress and development.
He criticized the Pakistan Tehreek-e-Insaf (PTI) government, stating that the country has been left in a financially constrained state, making it difficult for the provincial government to fulfill its obligations, including paying salaries to government employees. Moreover, he voiced concern over the emergence of a generation that harbors animosity towards their government institutions.
The governor further emphasized the significant sacrifices made by the people of the merged districts. He stressed that efforts are being made to grant them their constitutional and fundamental rights, including the allocation of reserved areas, to uplift them from their current state of underdevelopment.
Hits: 15