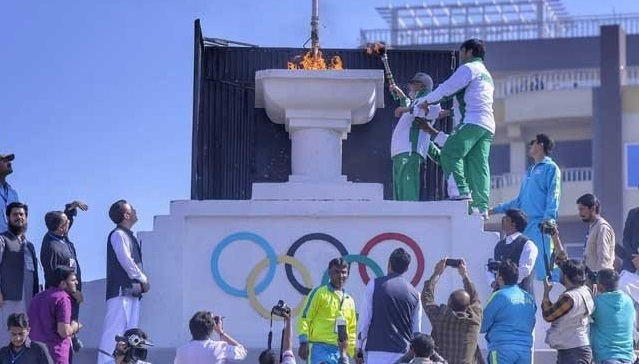 Khalida Niaz
Athletes from the integrated tribal districts in Khyber Pakhtunkhwa are calling for a separate contingent of tribal players to be included in the 34th National Games, starting on May 22, in order to secure their future.
Before the merger of the tribal districts, a separate team from FATA would participate in national sports events, receiving separate travel and accommodation allowances and other facilities. However, after the merger with Khyber Pakhtunkhwa, the lack of sporting facilities in the tribal districts is putting the future of FATA players at risk. As a result, these players are struggling to participate in any sports events or qualify for them.
This year, Balochistan will host the National Games, where athletes from across the country will compete in 32 different sports. Apart from Quetta, four games will be held in other cities, with rowing competitions taking place in Islamabad from May 14 to 18, and sailing competitions being held for the first time in Gwadar, in addition to Karachi. Shooting competitions will be held in Jhelum from May 13 to 19, and swimming competitions will take place from May 26 to 28 in Lahore. The remaining 28 games will be held in Quetta.
Also Read: Women need opportunities in sports
For the first time, exhibition competitions of futsal, throwball, and women's cricket, as well as canoe and kayak (boating), will be part of the National Games. However, the winners of these games will not receive medals.
Other sports include baseball, football, handball, hockey, kabaddi, rugby (seven), softball, tug-of-war, volleyball, badminton, boxing, fencing, archery, athletics, basketball (5×5), bodybuilding, cycling, golf, judo, karate, squash, table tennis, taekwondo, tennis, weightlifting, wrestling, and wushu. All these competitions will be held at different stadiums in Quetta.
Akhtar Rasool Shinwari, Senior Vice President of the Khyber Pakhtunkhwa Badminton Association and General Secretary of Khyber District, has alleged that the FATA Sports Directorate still has millions of rupees in funds and many vehicles, yet when players approach the directorate, they receive no support.
According to Shinwari, when players approach the FATA Sports Directorate, they are told to go to the DG Sports of Khyber Pakhtunkhwa, but when they go there, they are told to return to the directorate.
He insists that technical staff must be recruited for the FATA directorate or it should be legally integrated into Khyber Pakhtunkhwa, with similar facilities provided to ensure the future of FATA players is secure. Shinwari adds that, of the 400 players representing Khyber Pakhtunkhwa at the National Games, only 10-15 players will be from the tribal districts, which is concerning.
Mudassar Shinwari, a badminton player from Khyber district, has called for FATA players to be given the same facilities as players from Khyber Pakhtunkhwa, arguing that there is no shortage of talent among FATA athletes, but they are being deprived of the opportunities to play in big events.
Football player Kaleemullah Shinwari highlights that the tribal districts have produced international players, such as Atiq Shinwari, Yasir Afridi, Shaheen Shah Afridi, and Usman Shinwari, but now tribal district players are being denied basic facilities, jeopardizing their future. He echoes Mudassar's call for FATA players to be given equal opportunities.
Hits: 13