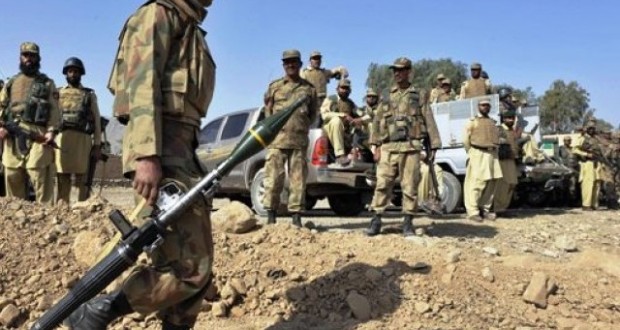 Two militants were killed in a security forces in the Esham area of North Waziristan on Friday.
Inter Services Public Relations (ISPR) in a statement said that a clash took place between the security forces and militants in the Esham area of the district.
ISPR said that the militants were involved in attacks on security forces. Besides, it said that arms and ammunition has also been recovered from the possession of the terrorists.
The military media wing said that Pakistan Army was committed to zero tolerance policy against the terrorism in the country.
Earlier in the last week of the January, a militant was killed in security forces operation in North Waziristan.
ISPR said that the security forces conducted an operation in the Mir Ali area of North Waziristan wherein exchange of fire took place. It said that a militant commander was shot dead in the firing while heavy arms and ammunition was also recovered in the operation.
It said that the slain militant was involved in several incidents of terrorism against security forces and general public.
Earlier on Thursday, three militants were killed in exchange of fire with police in Nisatta area of Charsadda district.
Police said that the militants were involved in an attack on Dheri Zardad police checkpost which has resulted into martyrdom of a cop while two others were also injured.
Police said that it has also recovered arms and ammunition from the possession of militants. Similarly, another militant was killed in exchange of fire with the police in limits of Parang police station. The attacker opened fire on police mobile and was killed when cops responded to the attack.
Earlier on Monday, a suicide bomber had targeted the Peshawar police lines mosque during the noon prayers, martyring 102 police personnel and injuring over 200 others.
Hits: 8