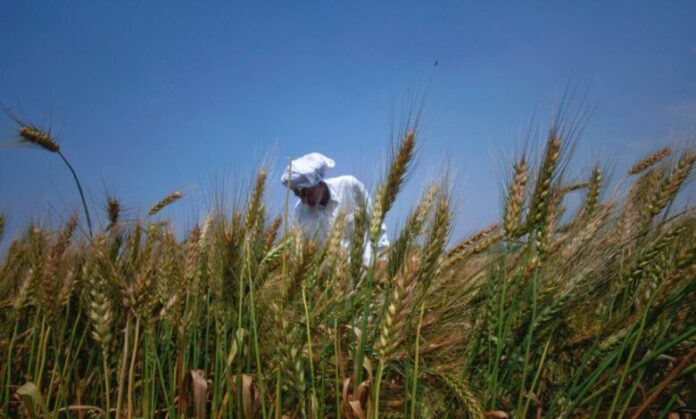 Shabur Hussain Imama
Like other parts of the country, Khyber Pakhtunkhwa has experienced the prolonged onset of rains (pre-monsoon showers) which is spelling doom not only for the crops but also affecting vegetables and fruits. There are also many areas where crops standing on hundreds of acres of land have been completely destroyed by rain and hailstorms.
This new spell of rain started on March 24 and after a gap of a few days in between, it started again the previous night.
Every year on the occasion of Nowruz, the rain brings a pleasant change in the form of light drizzle and heralding the beginning of spring, but this time due to climate change, it has brought a cold wave which is against the norm. People living in urban areas are satisfied with fasting due to the cold weather, but the cold wave in spring is affecting the production of crops and fruits.
In a scenario where the prices of fruits and vegetables are already higher than the purchasing power of the common man, climate change is taking its toll, and the rain is a cause of trouble instead of a blessing, leaving the farmers worried for their families.
Also Read: Wheat rust threat rising in Buner
Rains are likely to continue in Khyber Pakhtunkhwa for the next few days and reports of hailstorms are being received almost every day which is not good from an agricultural point of view.
On March 25, more than the monthly and annual average rainfall occurred in different parts of Khyber Pakhtunkhwa, 57 mm of precipitation is unusual in Bannu. Although the locals are enjoying this unpredictable weather, these changing rainfall patterns are not conducive to the production of the commodity in any case as the wheat crop is ready in most areas of Punjab and Khyber Pakhtunkhwa, however, the grain is not yet ripe, and needs the sun.
Meteorologists had already predicted these kinds of unexpected climate changes which are affecting not only Pakistan but also other countries in the region. It is time to think about rebalancing the environmental imbalance. Pakistan has already lost its cash crop cotton crop due to climate change. If this series of climate changes continue, wheat for national needs and mangoes for exports will not be available this year.
The climate change situation is a natural disaster for the farmers of Khyber Pakhtunkhwa and Punjab but it is not being seen as a natural disaster by the government. In principle, crop insurance should be introduced immediately to compensate farmers for losses due to climate change. Substantial measures are also necessary to supply seeds, fertilizers, and other production needs through Kisan Card.
It is worth noting that food prices and inflation can be reduced only by helping the agricultural sector to stand on its feet. One aspect of inflation is the global economic conditions, which have become an indispensable need to focus on the farming sector to minimize its effects.
Another important point is that very little is being done to educate farmers about climate change. What should the farmers do in case of unseasonal rain or unpredictable weather conditions and the alternative strategy in such a situation needs to be clearly defined. Agricultural officials must step out of their comfortable office environment and jump into the field to guide the farmers. In the era of social media and advanced media resources, it is easier and cheaper than ever to implement any communication concept.
The eyes of the farmers and the business class, directly and indirectly, affected by climate change, are on the government institutions, which have to formulate a comprehensive and integrated strategy in these situations, which should not be limited to a single province.
It is worth noting that abnormal patterns of rain are happening in Pakistan at a time when the country is already facing food insecurity and the economy and society affected by last year's flood which was named as super flood, has not been restored. The current climatic downturn means that the prices of food commodities will increase in the province of Punjab and Khyber Pakhtunkhwa during the current financial year. There will be a shortage of these commodities and how will a country and society that is mostly dependent on the wheat crop deal with the food shortage in the near future? This is a question that requires a practical strategy.
Farmers also expect agricultural experts to guide them through climate change-resistant seeds and alternative (innovative) farming methods. Farmers are also waiting for technological cooperation from China in the agricultural sector under the China-Pakistan Economic Corridor (CPEC) project.
The country, facing economic problems due to the impact of agricultural production, including lack of sufficient reserves of foreign exchange for ongoing expenses, reduction in foreign currency reserves, and possible bankruptcy (default), cannot be expected that the government will import food commodities in larger quantities.
The plight of farmers whose crops have been destroyed or affected by the recent unexpected rains should be considered. Climate change is not a term but a real crisis and it should be seen as a real crisis. It is wise to formulate a National Action Plan (National Strategy) to deal with climate change so that climate change can be dealt with using more and better effective methods and strategies.
Pakistan is considered in the Global South. Although its greenhouse gas emissions are less than one percent, its economy and society, especially agriculture, are badly affected.
The developed countries of the so-called 'Global North', should take steps to inform the world about the changing climate situation and its effects.
The opportunities to get more agricultural production from less area through science and technology and artificial intelligence should be taken advantage of. Technical assistance can be obtained to repair the damage caused by climate change and significantly reduce its effects.
Hits: 23