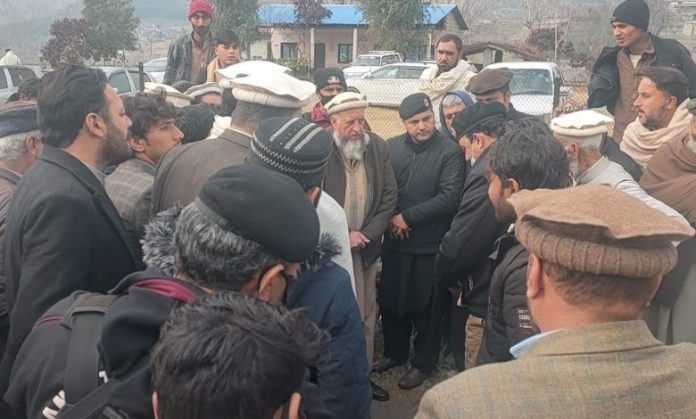 An accused murdered mother of four over a minor issue in Dab Nagha area of Upper Dir district.
Police said that this incident took place in the limits of the Khal police station on Wednesday. They said that accused hit the woman with an ax, fatally wounding her and she succumbed to her injuries at Peshawar hospital.
Locals' residents placed the body on the road and protested against the murder. The protesters later peacefully dispersed following police assurance.
Khal police said that murder took place over a verbal exchange between neighbors. A police said that accused identified as Khan Bahadur, an Afghan refugee, repeatedly hit the woman with an ax after the verbal exchange. Local police later rushed to the scene and the injured woman was shifted to district headquarters hospital Timergarah. Doctors at the Timergarah hospital referred her to Peshawar, where she succumbed to her wounds.
Following the murder, the locals took the streets and protested by placing the body on the road. However, local police personnel negotiated with the protesters and persuaded them to peaceful disperse.
The slain woman is reportedly belonged to the Chitral and married to a local from the Barawal area of Upper Dir. Her husband is currently working in Saudi Arabia. The family had left Barawal some months back and settled in Dab Nagha area of Rabat.
Besides the e deceased was a mother of four children, who stood beside their mother's dead body on the road in this extreme cold, crying and calling out to their mother.
Family members, particularly, maternal uncles of the children tried to console them.
Khal police have registered a case and started investigation, claiming that they were close to catch him.
"We will arrest him soon," a police official said.
Hits: 33