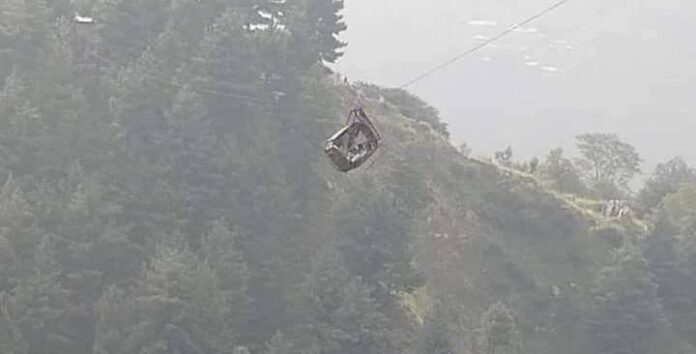 A heart-stopping incident rocked the Pashto region of Battagram district today as a group of schoolchildren found themselves suspended thousands of feet above the ground on a faltering chairlift.
The hair-raising episode unfolded in the UC Pashto Batangi area within Allai Tehsil, Battagram, when the chairlift's cable unexpectedly snapped, leaving the students and their teachers stranded in midair.
Rescue efforts are in motion as local authorities from Rescue 1122 scramble to devise a safe and effective plan for the six students and two teachers marooned on the precarious chairlift.
However, the unfolding situation has left the rescue team in a helpless position, with no immediate options available for swiftly and securely retrieving those trapped. With every passing moment, the urgency of the situation deepens, adding to the challenge faced by the stranded individuals and the rescue team alike.
Also Read: Jirga Diplomacy Triumphs: Mohmand's Blood Feuds Laid to Rest
The incident has sparked a chorus of concern from the local community, who are demanding immediate intervention. Calls for helicopter assistance have gained traction, fueled by growing apprehension over the safety of the stranded children and educators. Fears persist that without prompt action, the lives of those suspended on the dangling chairlift hang in the balance.
The geographical constraints of the region have compounded the challenge. Situated approximately four hours away from the district headquarters, the area lacks accessible roads and suitable machinery, leaving helicopter intervention as the most viable option for rescue.
Hits: 31