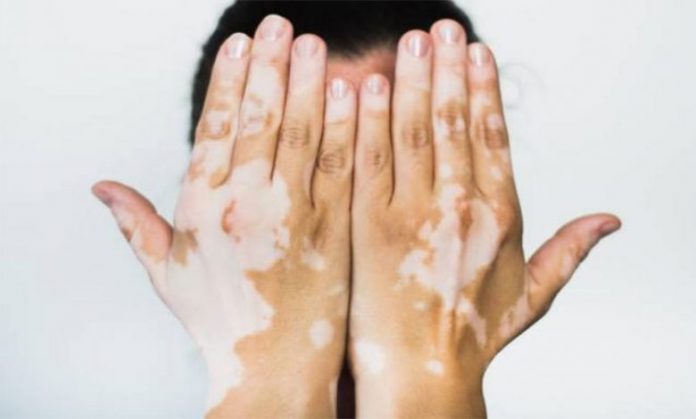 Rani Andaleeb
Vitiligo is a skin condition, wherein white patches develop on the skin. The illness can affect any part of the skin.
Nasreen Jabeen, a Peshawar based journalist said that her foot developed an itchy white rash some years back which later continued to grow. "Some months later, these white patches spread to both my hands and feet," she said.
Ms Nasreen did not get treatment for these patches initially. However, despite the patches spreading to all parts of her body, Ms Nasreen's face is still safe.
However, she said that it did not affect her life as her husband never teased her over these spots. At the same time, she said that societal attitude forced her to think more about this illness. "Whoever saw these spots on my feet and hands started asking me about this illness as if I knew the science behind it," she said.
She said that people incessantly give her advice about doctors, hakims while some others asked her to approach faith healers. "I also tried a faith healer," she said.
Ms Nasreen said that it was a painful illness and caused itch, discharge from the affected area, pain due to heat and sun. She started getting treatment from a Peshawar homeopath; however, to quit the rigorous treatment after three months. Similarly, her treatment from Hamdard Foundation had also to be stopped due to side effects.
She said that those having this illness could not do anything. However, she said that while getting treatment for this illness, they also end up developing psychiatric problems. However, she asked the people to not lose hope in Almighty after developing such disease. At the same time, she said that people should treat sick people gently so that they may not end up developing psychological problems.
Ms Nasreen said that vitiligo was not contagious as it was an auto-immune disease.
Dr Muhammad Zubair Bhatti, a dermatologist at the Lady Reading Hospital said that human rashes and spots develop on human body; however, added that every white spot was caused due to vitiligo.
However, he said that vitiligo had no cure.
Dr Bhatti said that there were many caused of vitiligo; however, anti-bodies developing due to auto-immune disease were the main cause.  In addition to this, mental illness and depression also caused vitiligo.
Besides, he said that there was no truth in rumors that it spread from wife to husband or parents to children.
In addition to this, he said that there was no cure to vitilgo; however, it could be controlled. "We use injections and laser treatment to control it temporarily," he said.
Hits: 81