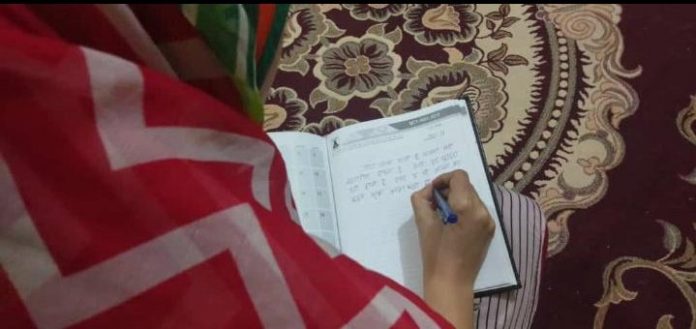 Rani Andleeb
PESHAWAR: Journalists in Pakistan are facing all kinds of problems, but the problems of women journalists are even worse.
Every year, several journalists in Pakistan become victim of politics, social injustices or enmity. The life of the upholders of truth always remains difficult and to add salt to the wounds is the fact that women in our society are considered inferior.
In our country, women journalists not only face threats, but they also remain fearful about harassment. They are often looked down upon and face criticism from society at large.
I don't need to go too far to cite an example as my own sister, Naheed Jahangir, who worked as a professional journalist with different leading media organisations, including TNN, had done a story on government funds for lawyers during the coronavirus pandemic and another story on Bahai community which brought trouble for her.
Despite knowing about all the dangers and difficulties, I still love journalism and there are many reasons for it. Right from my childhood, I had inclination towards reading and writing. I started writing a personal diary when I was just a grade-III student. In my childhood games, I acted as newscaster. I used to ask the elder sister to write a news script for me and then gather my friends and cousins to narrate the funny 'news bulletin' to them. At that time I did not know that I would get an opportunity to pursue my passion through the platform of TNN.
I originally belong to Shabqadar area of Charsadda, but I was born and grown up in Peshawar. My sister was Pashto newscaster in PTV and a producer in TNN. I used to ask her that journalism was my passion but you have joined the filed. After completing Masters in Urdu, I got an opportunity to work as intern in TNN in 2017. Honestly speaking, two months were just not enough for learning, but at least my childhood dream came true.
Then TNN gave me an opportunity for writing blogs. I had writing abilities, which were polished with the guidance of senior colleagues Iftikhar Khan, Khalida Niaz and Faheem. I wrote a blog on coronavirus lockdown last year which got so popular that the US radio Mashal did an interview with me on that. I like journalism because it brings respect, popularity and also good earning.
Once during a TNN training, eminent security trainer on Middle East Syed Tahir Mehmood appreciated the work of Naheed Jahangir. I was very happy in the heart and was confident of gaining professional excellence following the footsteps of my sister. I also like audio and video reporting and I am hopeful that this aspiration will be fulfilled soon.
Nowadays I am writing blogs and stories and I am hopeful that I am quite near my target of becoming a famous journalist.
Hits: 3