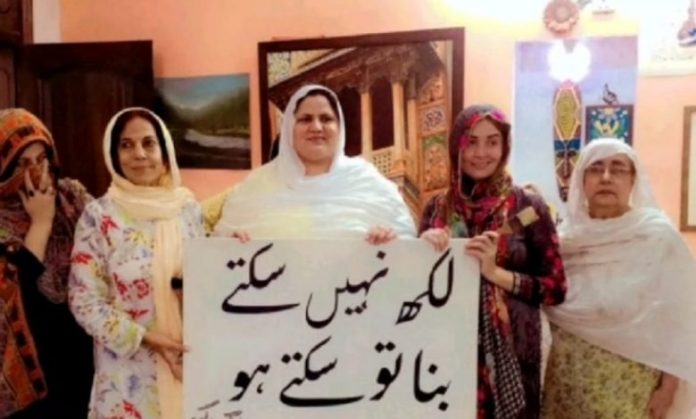 Zeeshan Kakakhel
PESHAWAR: Women who cannot write must not lose heart as they can at least draw paintings to portray their thoughts. With this passion, Huma from Hayatabad in Peshawar started a mission of teaching painting to illiterate women.
Huma believes that the women, who remain deprived of formal education due to some reason, still have creative abilities, and they can display it in a befitting manner through the art of painting. She is on a mission to enable the illiterate women to learn this art and teach it to others as well.
Huma teaches painting at her home to the students of colleges and universities and also to illiterate women who are interested. Currently, about 10 women are learning painting at Huma's house, including students and housewives.
Shazia, who learns painting from Huma, said she spends the whole day in kitchen and hardly finds time for doing anything else. She said she always had a liking for paintings, but did not get opportunity for learning it. She said when she saw an opportunity of learning painting near her house, she immediately grabbed it and now she is fulfilling her dream.
Shazia said she pays a fee of Rs500 per month to Huma for her lectures. She said she would learn the basic principles of sketching and painting within three months. She said she had never thought that she would ever get an opportunity to making paintings with brushes, and now she is very happy over getting this chance.
A student, who comes to the centre, said there is no art centre in Peshawar where women can learn painting during timings of their choice. She said she has learned a lot about sketching and painting within few days. She said Huma has also introduced a beautician course for women who are interested in it.
Huma said she has created an opportunity for women interested in painting and beautician courses to learn it at her home at convenient timings. She said education is not a must for learning painting. She said beautician course is also beneficial for women to enable them to stand on their own feet.
Hits: 6