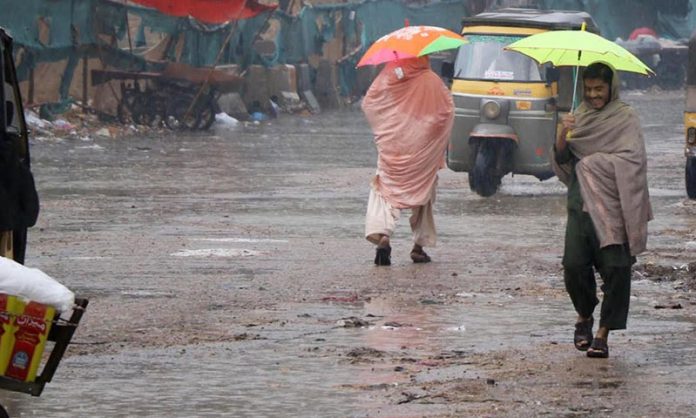 The weather remains pleasant during the holy month of Ramadan as heavy rains batters Peshawar, the capital of Khyber Pakhtunkhwa, and its surroundings again on Monday.
According to the Meteorological Department (PMD), a new spell has started in Peshawar since yesterday, the citizens came out happily and continued to enjoy the rain.
The rain also brought coolness to the weather and cold winds started blowing, the dark clouds cleared and the weather became pleasant.
Officials of the PMD said that along with Peshawar, the weather is likely to remain partly cloudy in most of the province's districts. However, rain with strong winds and thundershowers is possible at some places in Upper & Lower Chitral, Dir, Malakand, Swat, Buner, Shangla Kohistan, and Abbottabad.
Similarly, Orakzai, Kurram, Karak, Hangu, Lakki, North and South Waziristan, Dera Ismail Khan, and Tank may also experience thundershowers and strong winds.
PDMA, as well, has issued a letter to the district administration and concerned institutions to take early steps and measures to deal with any untoward situations.
This new spell of rain is likely to continue till Wednesday due to which there is a possibility of landslides in the upper districts, warned the letter.
The letter further said that the district administration should ensure the availability of small and heavy machinery. At the same time, there is a risk of flooding in Dir, Swat, Kohistan, and Mansehra, and it has been directed to monitor rain drains.
Hits: 5