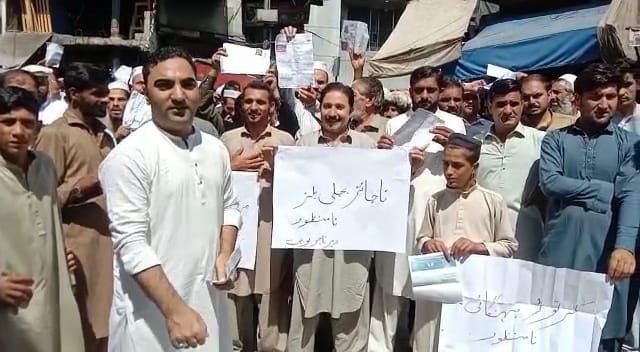 Across various districts of Khyber Pakhtunkhwa, a surge in electricity bills and heavy taxes has ignited protests among the population, spanning several days.
A protest demonstration, orchestrated by the 'Qomi Islahi Jirga' and led by Malik Ibrahim Khan, unfolded today in Lower Dir's Talash area. The event saw participation from figures such as former Finance Minister Muzaffar Syed Advocate, Tehsil Timergara Chairman Mufti Irfan ud Din, Muhammad Riaz, Aftab Alam Khan, and Dr. Noor Muhammad, alongside a considerable gathering.
Addressing the demonstration, the leaders lamented that Pakistan, a nation under divine protection, has experienced an egregious escalation in electricity bills and inflation, rendering the lives of the impoverished untenable. The surge in inflation, restlessness, and unemployment has even driven some among the disadvantaged to contemplate suicide.
Also Read: Unveiling Challenges: AJK Journalists' Struggle for Expression
They further highlighted the plight of daily wage laborers, who find themselves incapable of bearing electricity bills amounting to 20 or 30 thousand rupees. The leaders called for an end to this oppression, urging the state to combat inflation and break free from the shackles of IMF control. They poignantly equated the role of a state to that of a nurturing mother.
Protesters pointed out that despite Malakand division being declared a tax-free zone, a total of 12 different taxes have been levied on electricity bills, a move that has worn thin the patience of the people and compelled them to take to the streets.
In another incident, transgender individuals in Nowshera also entered the fray to voice their opposition against the mounting electricity bills. They have issued a warning of a possible march to Islamabad in protest against the escalating bills.
During the protest at Sadar Bazar Manki Chowk, the transgender community rallied against both the government and PESCO, condemning the burden imposed on people through soaring electricity bills and hefty taxes, following the previous instances of surging costs for essentials like bread, sugar, and medicines.
On this occasion, Sahil, the district president of the transgender community in Nowshera, emphasized that the government's focus seems skewed towards safeguarding the privileges of a certain segment of society. If the oppressive taxes on electricity bills are not withdrawn, the transgender community, alongside the struggling masses, intends to embark on a march towards Islamabad as a form of protest.
Hits: 20