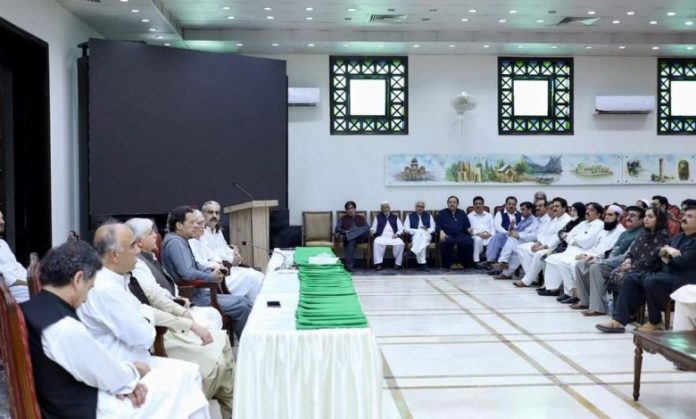 Muhammad Faheem
Pakistan Tehrik Insaf (PTI) preparations for its fourth long march have entered into its last phase with the party focusing its attention to the Khyber Pakhtunkhwa.
Despite hoping to attract good crowd from Punjab, PTI chief has at the same time pinned his hopes at the KP and for the same reasons he visited Peshawar to end bickering in party's ranks.  During his visit, party leaders were also assigned tasks to unify the party workers.
During his visit on Tuesday, Mr Khan held separate meetings with the party leaders, MNAs, MPAs and councilors and tasked the party leaders to bring 150,000 people for the long march. In addition to this, he also directed the party's leaders to shun their differences and focus on Azadi March.
Oath for Real Azadi March
During his visit to Peshawar, Mr Khan took oath from party's lawmakers and local government representatives which was administered by the former KP governor Shah Farman to those in the gathering Mr Khan and other senior party leaders.
Text of the oath read that all the party workers will obey and protect the constitution of Pakistan and will take part in the Azadi March considering it as Jiahd and offer all kinds of sacrifices.
Village and neighborhood council's chairmen who took this oath were directed to not only attend the march but also ensure that each one of them will be responsible for 100 people.
How to gather 150,000 people for protest
Mr Khan has tasked the VC&NC chairman to bring 100 people, MPAs 1000 and MNAS to bring 3000 people each for the protest. The relevant representatives will complete their registration within next three days and share the details with party's management cell over next three days.
Similalry, party's MPAs and MNAs will arrangement transportation for the workers and details of the vehicles bookings will also be shared with the same cell.
During the meeting, party leaders and workers were allowed to only speak about the Azadi March after which party leaders were assigned task to bring workers.
Mr Khan told the meetings that it would be good if anyone can bring out more workers. Sources said that two lawmakers at this occasion claimed to bring 10,000 workers each to protest. Party sources said that the lawmakers were directed to complete the workers registration and share their details including identity cards, phone numbers along with names and share with party leadership.
Preparations for baton charge and shelling
On the other hand, federal interior minister Rana Sanaullah is also preparing to tackle the PTI workers march on Islamabad. Sources said that about 35,000 personnel will be deployed in federal capital during the march. PTI chief also talked about this and said that the workers should be prepared for shelling and baton charge as government would not allow them to enter Islamabad.
When Long March's call is likely?
Despite queries form party leadership and cadres asked Mr Khan about the date for long march; however, Mr Khan said that the march was delayed due to Rabbiu Awal.
He said that a final date will be announced soon within coming some days. Sources said that the announcement will be made after the 12th for Rabbiul Awal the march was likely for October 14 or 16. However, they said that only Imran Khan knew the real date.
Hits: 64