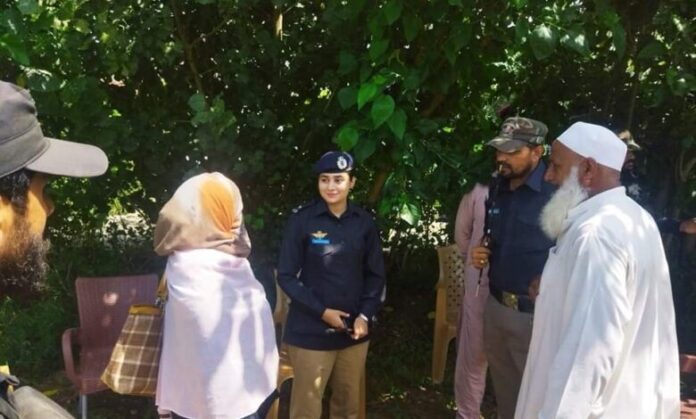 Khalida Niaz
In the Mansehra district of Khyber Pakhtunkhwa, a woman police officer has successfully thwarted the efforts of a land mafia to claim a widow's property, ensuring the rightful possession is restored to her.
Female ASP Nayab Moeez, in conversation with TNN, shared the woman's story. The woman was married in 2011 but faced divorce a few years later, with two kanals of land constituting her dowry.
ASP Nayab Moeez disclosed that despite a court ruling in her favor, the opposition was withholding the widow's land. After reviewing the woman's documents, Nayab Moeez stepped in to assist her in reclaiming the property.
Also Read: Protest Turns Tragic: Violence Erupts at Lakki Cement Factory
Nayab recounted the woman's ordeal, stating that she had tried four times to regain possession of the land, only to be met with resistance and even kidnapping and violence from the opposing party. She confided, "As a woman, I couldn't go alone. I was distraught."
Taking action, the police dispatched a team to the location and confirmed the widow's rightful ownership through Patwari. Nayab assured the woman of her support on the ground, emphasizing the importance of her uniform in aiding those in need. "I assured her that I would stand by her, regardless of any intimidation or violence."
Nayab Moeez, who joined the police force in 2021 after passing the CSS exam, hails from Lahore and currently serves as an ASP in Mansehra. She noted that previously, women were hesitant to visit the police station to address their issues or assert their rights. With the establishment of the women's desk and her presence, the trend has shifted, and women are now seeking assistance from the police.
She encouraged other young women to consider joining the police force, highlighting its potential to bolster self-confidence and serve as advocates for fellow women.
Nayab emphasized that women officers possess a unique ability to comprehend and address women's issues, fostering a better understanding and communication.
Hits: 14