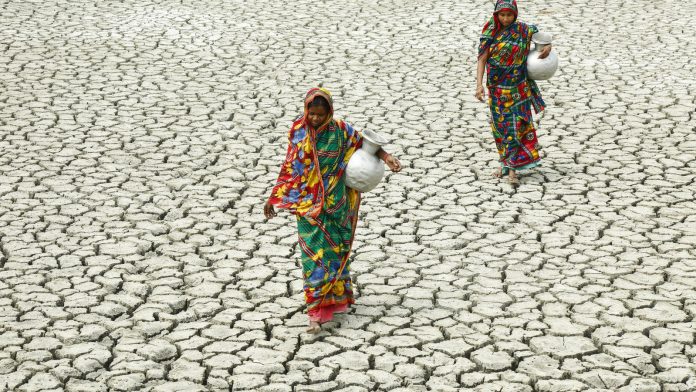 Fatima Faraz Hoti
PESHAWAR: From the extreme weather events to the wide-spreading infections and diseases, climate change is the driving force behind all of it.
Climate change is a natural phenomenon that is affecting all countries but its effects are being shaped by pervasive and entrenched gender inequalities. Because of their economic marginalization, political disenfranchisement, and differentiated labor responsibilities, women face the consequences of the climate crisis first and worst.
Heatwaves, droughts, floods, rising sea levels, and all extreme weather events affect women disproportionately. When these severe consequences of climate change occur, many girls drop out of school and are forced into child marriages to lessen the burden of their families. Education, which is a basic human right, is disrupted for many young girls because of this.
Women live in more poverty than men and they have lesser access to basic human rights and the ability to freely move and face systematic violence that escalates during periods of instability. Women living in the indigenous places who are the most affected have no or less access to quality education, decision-making, and a healthy lifestyle. Hence they suffer more.
Due to gendered social norms and inequalities, women often hold positions burdened by environmental change such as water collecting and small land farming etc. Climate change has a huge impact on the agricultural sector. More than 60 percent of the women in southern areas work in the farming sector and their lives directly depend upon the growth of crops. If the production of these crops decreases, it will have a huge impact on the lives of these women.
Many poverty impacted women have weaker immune systems as compared to men. The infections and diseases which spread due to climate change impact the health of thousands of women often leading to death or severe cases.
The presence of women in the law-making regarding the climate crisis, policies that seek to breakdown these inequalities including small financing sources would be the right step in battling the disproportionate effects of climate change on women. If women are aware of such consequences caused by climate change, they will have better abilities to cope with it. Those working in the agricultural sector will make informed decisions such as selecting drought-resilient crops. If women are given equal representation in the national and international decision making, climate education, and access to necessary resources, they will bring a vast change and dismiss this disproportionate effect.
Every person has different ability to cope with such situations and a different role to play .The people who have the will, power, and resources to tackle such situations should go to the most affected places and build better structured schools so that even during floods or other extreme conditions, students do not fall out of schools. There should be better alarming systems in order to let the people know about the upcoming floods etc. and the governments of countries should help with re-locating these people and providing them with better residencies so that they continue their works and efforts to learn. Climate education should be made necessary in every school so that these students are well aware of such situations and they cope with it in a better way, hence it should be added in the national curriculum so that everyone knows about it and not just the privileged.
According to the Sustainable Development Goals, health, education and gender equality should be achieved by countries whose women are disproportionately being affected by the effects of the climate crisis. Health facilities of every region in a country should be examined and better and equal facilities should be given in hospitals to women. If all such steps are taken on national and international level, we will be able to dismiss this disproportionate effect.
Fatima Faraz Hoti is a 15-year-old climate activist from Mardan based in Peshawar . She writes on different social issues including climate change and uses her social media platforms for climate awareness. Twitter: FatimaFaraz5.
Hits: 68