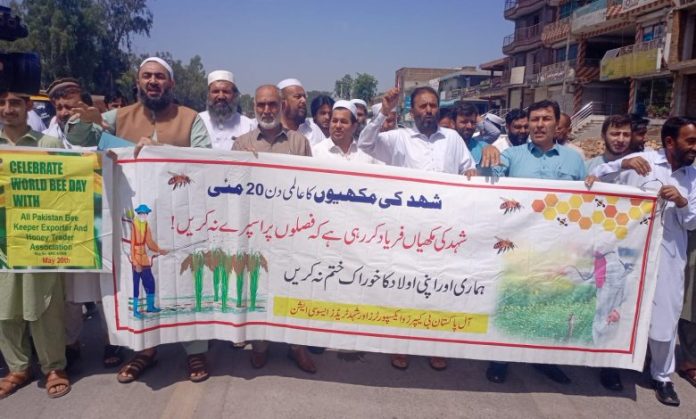 Rifaqatullah Razarwal
Khyber Pakhtunkhwa beekeepers deforestation, insecticide sprays, pollution and global warming were posing serious threats honeybees in the province.
On the other hand, agriculture department officials said that they informed the relevant authorities about the threats posed by the use of insecticides and other issues.
May 20 is observed as the World Bee Day, which is aimed at highlighting threats faced by the bees.
Sheikh Gul Badshah, senior vice-president of the All Pakistan Beekeeper Exporters and Honey Traders Association told TNN that about 1.5 million people were currently associated with the honey business across the country.
He said that environmental pollution, relentless deforestation, rising temperature and the use of pesticides posed a serious threat to bees.
He said that Pakistan produced about 35,000 tons of honey annually and KP contributed about 60 per cent of this. Mr Badshah said that Pakistani earned foreign exchange equivalent to Rs 1 billion from exporting honey produced in Karak alone.
He said that following the fall of Kabul, a large number of Afghans have also joined the beekeeping business.
Mr Badshah appealed the public to stop deforestation and plant more trees in place of fallen trees and avoid using pesticides on crops.
He said that they have to shift their bee hives to colder parts of the province due to extreme heat in the plains; however, often cold killed the bees, which also resulted into heavy losses for them.
Besides, he also demanded for enacting legislation to protect jujbee, poplar, phulai and shisham. He said that in government had promised to plant, these species in the 10 Billion Trees Tsunami afforestation programme and more of these trees needed to be planted.
On the other hand, agriculture research station Tarnab provides beekeeping training and at the end of training, the participants are given five boxes each.
Dr Younis, a senior entomology department said that honeybees not only produced but also helped the pollination which turned flowers into fruits, directly benefited the farmers.
He said that beekeeping business could be started at the cost of Rs 50,000 and can go up to millions of rupees.
He said that prospective beekeepers are enrolled through media campaign into training programme.  Dr Younis said that they have trained thousands of people in beekeeping.
Besides, beekeepers also organized a rally on the occasion Word Bee Day and the participants called for protecting the bees.
Tarnab farms senior director Masood also participated in the rally. He told TNN that meetings have been held with relevant authorities regarding issues faced by beekeepers.
Besides, he said that the government has also provided funds to the center to setup honey testing laboratory as previously beekeepers used to take their honey to Islamabad for testing.
Hits: 5