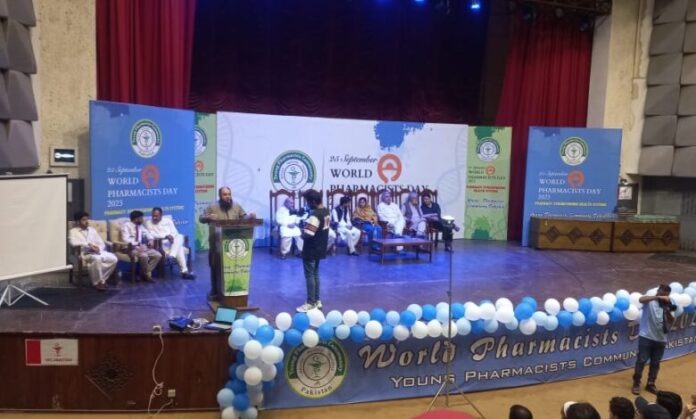 Rehan Muhammad
World Pharmacist Day is being celebrated worldwide, including in Pakistan, to recognize the essential contributions of pharmacists within the healthcare sector. This year, the theme for the day is 'Pharmacists Strengthen Health.'
A special ceremony was organized by the Young Pharmacist Community at Nishtar Hall in Peshawar, where faculty members and students from pharmacy departments across the province's universities participated. The students had set up informative exhibition stalls related to the field of pharmacy.
Raees Khan, a member of the Young Pharmacists, highlighted that an estimated 600 individuals earn pharmacy degrees from various universities in Pakistan annually. Among them, around 2,300 pharmacists graduate from 17 universities in Khyber Pakhtunkhwa each year. Presently, there are 15,000 registered pharmacists nationwide, with 5,000 in Khyber Pakhtunkhwa.
Also Read: Kidnapped Engineer Aamir Khattak Released After Month-long Ordeal in Tirah Valley
Pharmacist Asfandiar, a recent graduate from Peshawar University, shared his perspective, stating that World Pharmacist Day is being celebrated while thousands of pharmacy graduates across the country remain unemployed.
Asfandiar entered the field with enthusiasm but discovered that there were limited job opportunities for pharmacists in Pakistan, leaving him unemployed even a year after completing his degree. He expressed concerns that due to job scarcity and other issues, fewer people might pursue pharmacy degrees.
Dr. Waqas, the President of the Young Pharmacist Community Pakistan, emphasized the pivotal role of pharmacists in the healthcare sector. No medication is dispensed to a patient without confirmation from a pharmacist, and prescriptions from doctors are validated by pharmacists before the medicine reaches the market.
Dr. Waqas highlighted three primary areas where pharmacists play a crucial role: community pharmacy, clinical pharmacy in hospitals, and pharmaceutical research and development in the industry. He noted that while World Health Organization (WHO) standards recommend one pharmacist for every 20 hospital beds, in Pakistan, one pharmacist serves 100 beds. In the industry, pharmacists conduct research and develop medications for various illnesses.
Experts underscored that, just like a specialist doctor diagnoses a disease, pharmacists play an integral role in preparing tailored medicines for patients. This includes selecting ingredients, researching their properties and effects, determining ingredient ratios for compound medications, ensuring medication availability based on the disease's nature, and overseeing medication distribution and storage in hospitals and warehouses. All these aspects fall under the domain of pharmacy.