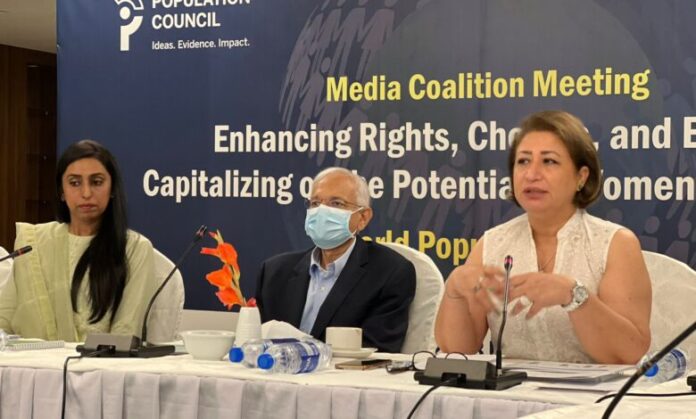 Mehrab Shah Afridi
During the National Media Coalition meeting of the Pakistan Population Council in Islamabad, alarming statistics were presented. The Population Council's report revealed that 48 percent of women in the country are illiterate, while a staggering 79 percent are not part of the workforce. Furthermore, only 10 percent of the total female population has the ability to make decisions about their own health.
Speaking at the meeting, Senior Director Programs Dr. Ali Mir highlighted the gender inequality prevalent in Pakistan. He pointed out that Pakistan ranks low in the Global Gender Gap Index 2022, indicating a significant gender equality gap in the country.
Dr. Mir emphasized that gender inequality in Pakistan is deeply rooted, with only 21 percent of women participating in the labor force and a low representation of women in the National Assembly. He emphasized the pivotal role of the media in raising awareness about women's empowerment through initiatives such as girls' education, women's inclusion in the workforce, and striving for gender equality.
Also Read: Tragic Murder-Suicide in Takht Bhai: Man Kills Wife, Commits Suicide
Dr. Mir urged journalists to actively contribute to achieving development goals by focusing on education, health (including family planning), and enhancing women's participation in the national workforce.
Umm-e-Kalsoom, Senior Project Officer of the Population Council, briefed the participating journalists about regional data on women's education, health, and labor force participation. She encouraged journalists to prioritize these critical issues and use their platform to create conscious awareness.
Kalsoom highlighted the concerning fact that 37 percent of girls in Pakistan are out of school. She stressed the importance of providing free school admission, education up to the secondary level, and meeting the food, education, and health needs of girls, as well as addressing all forms of discrimination against women. The media was called upon to play a crucial role in eliminating these challenges.
Social and Policy Adviser Fauzia Yazdani emphasized the significance of empowering Pakistani women by offering equal opportunities and raising awareness about their reproductive health rights. This empowerment is crucial in order to bring the rapidly growing population to a sustainable level and achieve a balance between population and resources.
World Population Day, celebrated on July 11, serves as an opportunity to shed light on population-related issues. Given the low literacy rate in Pakistan, women's empowerment poses a major challenge. The media can play a vital role in reaching decision-makers and driving positive change. Journalists from across the country who participated in the meeting expressed their determination to actively contribute to addressing the challenges in achieving a balance between population and resources.
Hits: 7