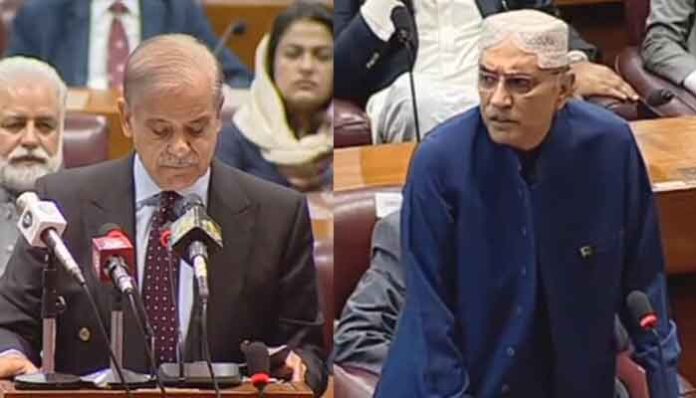 Former President of Pakistan, Asif Ali Zardari, advised Prime Minister Shehbaz Sharif to initiate negotiations with the opposition during a special session of the National Assembly commemorating the Golden Jubilee of the Constitution of Pakistan. Zardari remarked that receiving court notices was not a new experience for him, citing past instances where similar notices had been sent against him and his family.
Zardari mentioned that he had received threats from the TTP (Tehreek-e-Taliban Pakistan) in the past but had continued to fight for democracy in Pakistan. He added that he intended to travel to Balochistan and Khyber Pakhtunkhwa to continue his efforts to save the country.
Also Read: NSC blames "soft corner" for TTP for recent wave of terrorism in Pakistan
Referring to the Prime Minister, Zardari noted that the authority for dialogue lay with the leader, but he urged Shehbaz Sharif to negotiate with the opposition without preconditions. He also requested the opposition to approach Shehbaz Sharif for negotiations because he was the Prime Minister.
Zardari expressed his optimism for the future of Pakistan, highlighting how even countries like Japan and Korea had faced bankruptcy. He added that Pakistan too would rise, and he would work towards that goal.
The Golden Jubilee of the Constitution is being celebrated today. Speaker National Assembly Raja Pervez Ashraf has said the objective of commemorating the golden jubilee of the 1973 Constitution is to highlight the importance of this document and sensitize citizens about their rights and responsibilities.
Hits: 12