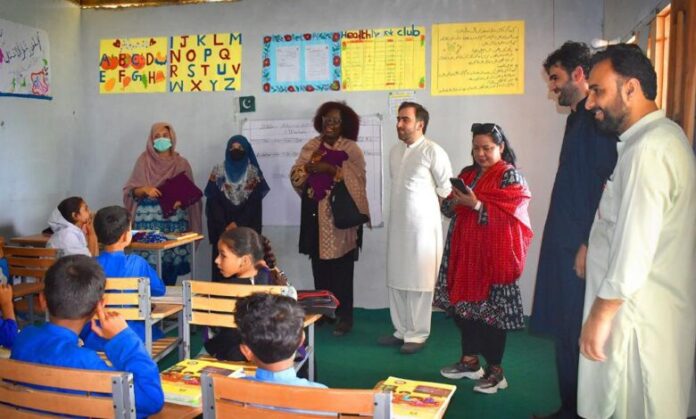 A delegation from UNICEF, led by Dr. Christine Wanjala, Commonwealth Alumnus and Education Specialist, held a productive meeting with Deputy Commissioner Battagram, a district in Hazara Division of the Khyber Pakhtunkhwa (KP) province, and officials from the Department of Education.
The purpose of the visit was to assess the progress of the Alternative Learning Program-Program Implementation Unit (ALP-PIU) project. The delegation engaged with stakeholders, including the Deputy Commissioner, District Education Officers, and the ALP-PIU teams from Battagram and Torghar.
The ALP-PIU project, supported by UNICEF, aims to provide alternative learning opportunities for children who face obstacles in accessing formal education. During the meeting, the District Coordinator presented a comprehensive progress report on the ALP-PIU project in Battagram. Dr. Christine Wanjala expressed appreciation for the dedicated efforts of the ALP-PIU team in ensuring the success of the project.
Also Read: First-Ever Case: 6-Year-Old Girl Slaughtered in North Waziristan
Gulnaz Jabeen, UNICEF Education Officer, acknowledged the hard work of the field team in offering quality education to out-of-school children in the districts. He emphasized the positive impact that the team's tireless efforts have had on the lives of these children, enabling them to acquire essential knowledge and skills.
Dr. Christine Wanjala extended gratitude to Tanveer ur Rahman, Deputy Commissioner, and the District Education Officers for their continuous support and cooperation with the ALP-PIU project. Their backing played a pivotal role in facilitating the smooth implementation and progress of this initiative.
During the discussions, Dr. Christine Wanjala also highlighted a major challenge faced by UNICEF in supporting education initiatives in KP. She expressed concern over the absence of a non-formal education policy in the province, which creates difficulties in establishing a clear policy framework. She emphasized the importance of a robust policy foundation to enable sustainable and scalable efforts in the field of non-formal education.
Fawad Shah and Fahad Ali, representatives of the training and mentoring teams in both districts, commended the outstanding achievements of the ALP-PIU team in Battagram and Torghar. They emphasized the urgent need for a strong non-formal education policy in KP to secure maximum support and resources from UNICEF and other stakeholders.
Hits: 35