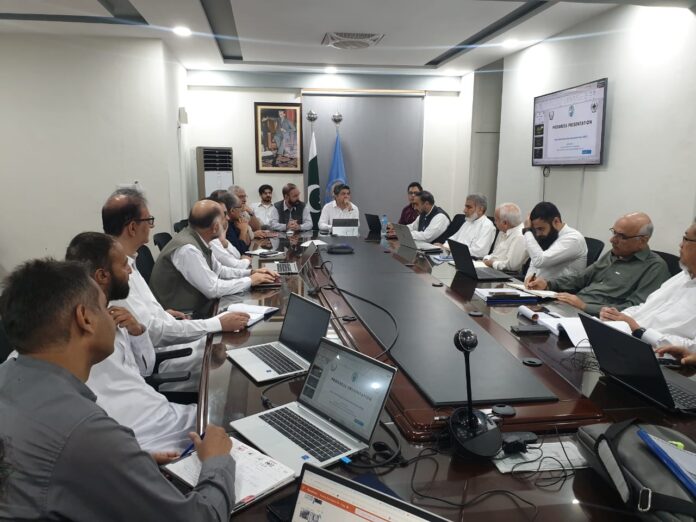 PESHAWAR: A joint delegation from the Asian Development Bank (ADB) and the Asian Infrastructure Investment Bank (AIIB) emphasized the importance of maintaining quality and ensuring early completion of projects under the Khyber Pakhtunkhwa Cities Improvement Project (KPCIP).
The delegation, led by Senior Project Officer Umar Ali Shah and a representative from AIIB Ghufran Syed, held a progress review meeting here on Monday.
During the meeting, Project Director KPCIP Syed Zafar Ali, Director Compliance Amir Alam Khan, Director Technical Mian Shakeel Ahmad, and Director Finance Qazi Raees attended the meeting. Additionally, chief executive officers from Peshawar, Kohat, Mardan, Swat and Abbottabad water and sanitation companies and construction supervision consultants (PMCSC) were also present.
Also Read: KPRA to hold Registration Drive throughout the province
Each City Implementation Unit (CIU) provided a detailed briefing on the status of all ongoing, proposed, and recommended projects.
Furthermore, the Project Management Unit (PMU) team, led by the project director, briefed the delegation on the technical, financial, administrative, and operational aspects of the projects being carried out in five division cities of Khyber Pakhtunkhwa, namely Peshawar, Mardan, Mingora, Kohat, and Abbottabad.
The consultants updated the delegation on the progress of work for each project. Following the briefing, the senior project officer emphasized that there should be no compromise when it comes to the quality of work. He stressed the importance of completing each project within the stipulated timeframe to ensure that the benefits reach the general public on time.
The provincial government with financial assistance from the ADB and AIIB has been implementing various projects in the cities including the modernization of water and sanitation delivery system so that people have access to clean drinking water and the cities have a sustainable environment-friendly wastewater treatment and waste management systems.
Hits: 17