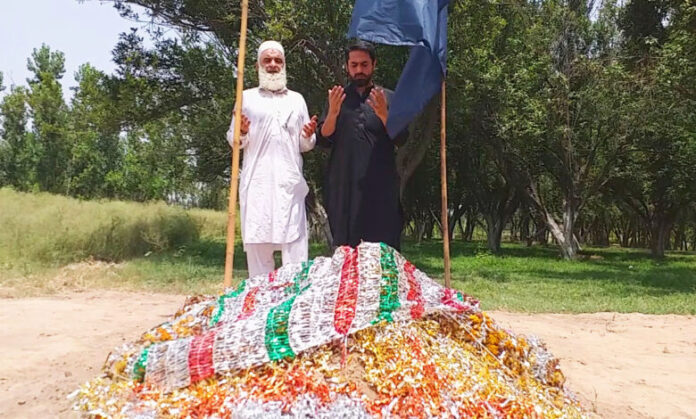 "In the aftermath of the devastating blast that struck Jamrud, I earnestly warned Adnan Afridi to exercise extreme caution. But he, with unwavering confidence, reassured me not to fret, as arrangements had been made," stated Haji Fazal Akbar, the father of Adnan Afridi, who lost his life in a tragic suicide attack at Ali Masjid, Khyber district, a few days ago.
Reflecting on his son's martyrdom, Haji Fazal Akbar spoke with immense pride. He described Adnan Afridi as a courageous and compassionate individual who cared deeply for others. Despite the heart-wrenching loss, the people in the area remained steadfast and resolute, finding solace in the knowledge that Adnan's sacrifice was for a greater cause.
Today marks the observance of "Yom e Shuhada e Police" (Police Martyrs' Day) throughout Khyber Pakhtunkhwa, an occasion to acknowledge and pay tribute to the sacrifices of the police force. Haji Fazal Akbar highlighted Adnan Afridi's notable service in various areas, including Khyber, Tirah, and Jamrud. His bravery had left an indelible impression on all who had witnessed it.
Also Read: From Playgrounds to Workplaces: The Vanishing Childhood in Kabul
In the wake of his son's martyrdom, Haji Fazal Akbar fervently offered thanksgiving prayers, humbly realizing the profound contrast between his own status and that of his departed son. Adnan Afridi left behind five children, two sons, and three daughters. Adored by children, he cherished moments spent with his mother.
Nawabzada Shakeel Afridi, Adnan Afridi's elder brother, also expressed profound pride in his brother's selfless sacrifice. He described him as a beloved individual whose loss extended beyond immediate family, touching the lives of everyone around him. Adnan's courage became a source of inspiration, evoking admiration from all quarters.
His exemplary character, marked by outstanding morals and compassion for the less fortunate, resonated deeply with the community. In times of happiness, he would be the first to celebrate and share in the joy of others. Such acts of kindness would forever be etched in the memory of those he touched.
As the community mourns the loss of Adnan Afridi, they are united in their pride for his valor and selflessness, finding solace in the legacy he leaves behind.
Hits: 7