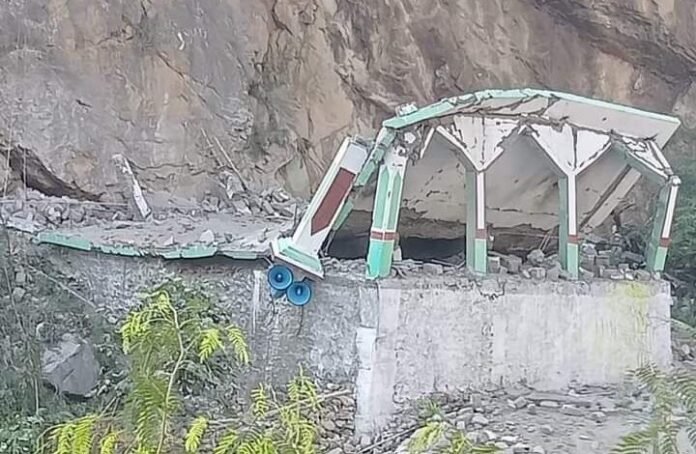 An Additional SHO (Station House Officer) was killed in a suicide blast that occurred in the Jamrud area of Khyber district, Khyber Pakhtunkhwa.
CCPO Peshawar, Ashfaq Anwar, confirmed that SHO Adnan Afridi lost his life in the suicide bombing. The incident took place when there was prior information about the presence of suspicious individuals in the area. In response to the tip-off, Additional SHO Adnan Afridi and his team reached the location, but the assailant spotted them and attempted to escape.
The police pursued the assailant, who then sought refuge inside a mosque. Tragically, the attacker detonated the explosive device inside the mosque, resulting in the death of Adnan Afridi.
Also Read: Indian Woman Marries Pakistani Man in Malakand Division
CCPO Peshawar stated that one of the suicide bomber's accomplices has been arrested. Moreover, while the suicide bomber was prevented from reaching the intended target, authorities are still determining the exact target of the attack.
Several officials and others who were injured in the blast have been transported to the hospital for medical treatment.
It is important to note that in the Khyber district, a previous explosion occurred near the main gate of a police station located in the Bara Bazar tehsil compound on July 20, which claimed the lives of four people and injured seven others, including police personnel.
Additionally, another injured policeman, Abdul Hadi, succumbed to his injuries in the hospital on a later date, raising the death toll from that incident to five.
Earlier on July 18, in Peshawar's Hayatabad area, at least six people were injured in an explosion near a Frontier Corps (FC) convoy. SP Cantt Waqqas Rafi mentioned that the attack specifically targeted the Frontier Corps convoy while it was passing through Hayatabad Phase 6.
Hits: 36