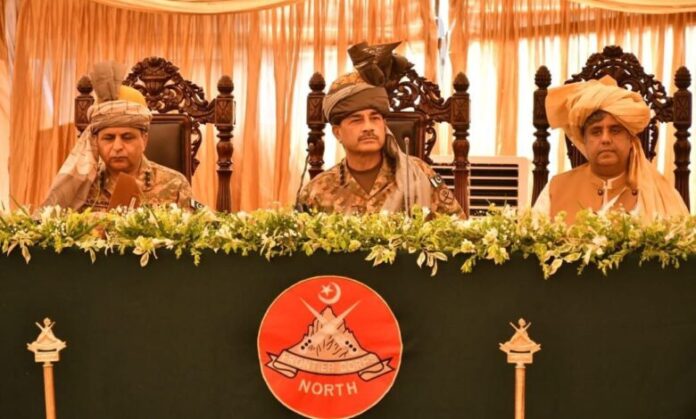 In a significant visit to Peshawar, Army Chief General Syed Asim Munir emphasized the unity between the army, security agencies, and the people of Pakistan. During his visit to the martyrs' memorial at Fort Bala Hisar Headquarters Frontier Corps Khyber Pakhtunkhwa, he paid tribute to the fallen heroes by laying wreaths and reciting Fatiha.
As part of his engagements, General Asim Munir met with tribal elders from the newly merged districts of Khyber Pakhtunkhwa and dignitaries from various sectors. He also participated in a historic Grand Jirga.
Addressing the Grand Jirga, the Army Chief reaffirmed Pakistan's commitment to peace and security. He declared that anyone attempting to disrupt peace is not part of the nation. The Pakistani army, known for its unwavering faith, piety, and jihad, stands united against all threats. General Asim Munir emphasized that Pakistan, like the state of Madinah, holds Islam as a religion of peace and security.
Also Read: LRH Medical College Construction Gains Momentum Under New Committee
Regarding the issue of talks, the Army Chief clarified that any discussions would only be held between Pakistan and the interim government, not with any specific group. He emphasized the importance of Islam as a religion of kindness and criticized those who falsely accuse it of terrorism. General Asim Munir acknowledged the presence of Afghan refugees in Pakistan but reminded them to abide by the laws of the country.
Directing his attention to the Afghan government, he expressed Pakistan's concerns about sanctuaries for banned organizations and militant activities on Afghan soil. Pakistan remains committed to eradicating terrorist networks and ensuring peace and stability in the region. The Army Chief questioned the motives of those who seek to disrupt Pakistan's sovereignty, emphasizing that Pakistan's constitution recognizes Allah as the ultimate authority.
In the war against terrorism, General Asim Munir pledged to fight alongside his brave army until the last drop of blood. He stated that terrorists have no option but to surrender to the state, and victory will ultimately be theirs. The motto of the Pakistan Army is "Shaheed or Ghazi," reflecting their determination and dedication to the cause.
The Army Chief reassured the tribal brothers, acknowledging their countless sacrifices for the nation's peace and prosperity. He emphasized the need to develop all tribal areas and focus on empowering the youth. He also addressed the hostile propaganda against the armed forces, stating that it will be handled according to the law.
Concluding his address, General Asim Munir announced plans to establish a secretariat to address tribal integration issues, ensuring the participation of tribal people in economic development projects. He commended the KP Police for their remarkable efforts and sacrifices. Additionally, he highlighted the abundant mineral resources in the Khyber Pakhtunkhwa province, indicating the potential for economic growth and prosperity.
Hits: 29