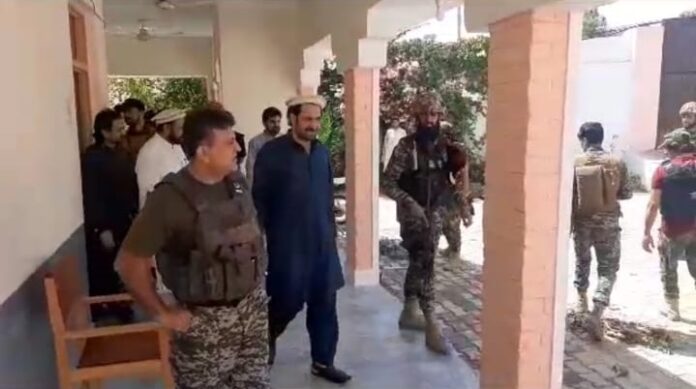 Muhammad Abid
Armed gunmen unleashed an attack on the Miranshah Press Club in North Waziristan, leaving a trail of violence in their wake. The assailants brutally assaulted club member Noor Bahram, subjected him to verbal abuse, and ransacked the club premises. Security personnel present at the press club were not spared either; their uniforms were torn, and they endured physical beatings.
Local journalists are alleging that the incident involved SHO Ibrahim Khan's father and his associates, who forcefully entered the Miranshah Press Club. There, they ripped apart the uniforms of the policemen stationed at the gate, subjecting them to physical assaults.
Noor Bahram, injured during the attack, was initially rushed to Miranshah Hospital. However, due to the severity of his condition, he is now being transferred to Bannu. The assailants didn't stop at physical violence; they also pillaged and vandalized the press club.
Also Read: FIA Launches Aggressive Crackdown on Cash and Dollar Smuggling in KP
In response to this harrowing incident, journalists affiliated with the Miranshah Press Club have declared an immediate boycott of police coverage. Their protest seeks justice through the immediate filing of a case against those involved in the attack. Additionally, they demand enhanced security measures for the press club and its members.
Safdar Dawar, the President of the Miranshah Press Club, voiced deep concern over the intrusion of assailants into the press club premises, the brutal treatment of police officers responsible for club security, and the assault on club members. He called for swift action and the registration of a case against the attackers.
Journalist communities across North Waziristan are demanding that the Caretaker Chief Minister and IGP of Khyber Pakhtunkhwa identify and hold accountable all those responsible for the attack on the Miranshah Press Club. Failure to do so promptly may lead to nationwide protests.
It's worth noting that cases have been filed against some journalists in North Waziristan. The affected journalist has been consistently raising concerns and advocating for the withdrawal of these FIRs.
Hits: 31