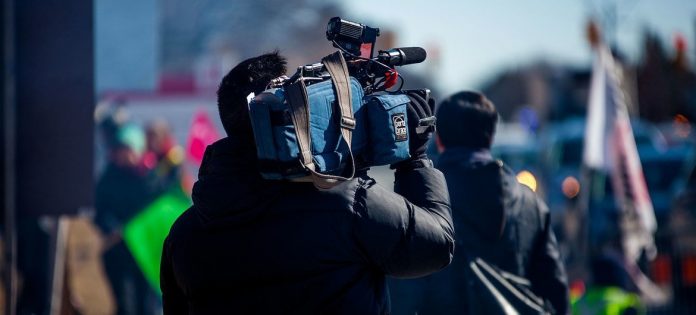 Alisha Andleeb
Azad Jammu and Kashmir (AJK), Pakistan – The Pakistan Press Foundation (PPF) has raised concerns about the safety and security of journalists in Azad Jammu and Kashmir (AJK) following the documentation of nine instances of safety and security problems experienced by journalists in the region over the last five years. Recent cases shed light on the challenges faced by journalists in the area.
"Two AJK-based journalists have been booked in a defamation case on 27 July 2023 in District Heveli. The FIR was launched by the superintendent of the local District Session Court that journalist Majid Afsar, a reporter with Sada-e-Chinar, and Ijaz Khan, working with Kashmir Express, allegedly maligned the judge of the court through a social media campaign. According to detail, a young girl was murdered in the area and an influential person was identified in her murder case. The civil society and media launched a campaign demanding justice for the deceased girl. The police were allegedly favoring the influential. When the civil society and the reporters highlighted the issue on social media, judge of district session judge launched an FIR against the journalists through the superintendent of the court."
Journalist Majid Afsar Reporter with Sada e Chinar described the incident, stating, "On July 7, a 20-year-old girl was allegedly raped and killed. Her heirs protested outside Islamabad Press Club on the 23rd, saying, "We're from a minority community; they killed our girl. The accused are influential, and the police and administration are involved. Be our voice.'"
In their pursuit to advocate for justice, the journalist, Majid Afsar, took a significant step by requesting a copy of the FIR (First Information Report) and making its contents public. This move quickly gained widespread attention and triggered a chain of events, including the replacement of the investigating officer.
Also Read: Pashto Artists Demand Inclusion in National Theater Festival
He said that, as things appeared to be progressing in the case, a new challenge arose when individuals residing abroad began to criticize both the judge and the administrative officer involved in the proceedings. In an attempt to quell dissent, the administration took screenshots of these critical remarks along with our posts, and promptly brought these materials before the judge, alleging contempt of court.
"Without conducting a thorough investigation into the matter, the judge initiated an FIR against all the individuals implicated, which included four individuals, including two journalists, me and Ejaz Khan from Kashmir Express. The legal proceedings continue to unfold in this ongoing case." He added.
As outlined in the document from PPF, journalists have faced a series of threats, attacks, and detentions in recent years, from 2020 to 2022 highlighting the risks they encounter while reporting on sensitive issues. Incidents include Journalists like Zahid Abbasi, Sheraz Gardezi, Junaid Ansari, Sardar Naeem Chughtai, Syed Taqi ul Hasan, Hamza Kamal, Siddique Loon, and Nawaz Dar have faced detentions, physical assaults, and threats related to their reporting on issues such as political corruption, development projects, and police activities. Some of these incidents have occurred amid allegations of blackmail and clashes with authorities, raising concerns about press freedom and safety in the region.
The five journalists that were detained on March 2, 2021, included Sardar Naeem Chughtai of GNN TV, reporter Syed Taqi ul Hasan of Dunya News channel, reporter Hamza Kamal of Daily Awaz, reporter Siddique Loon of Daily Country News, and reporter Nawaz Dar of YJF Web TV. Their detention stemmed from their coverage of the collapse of a wall at an under-construction plaza allegedly owned by the family of the AJK prime minister.
In an interview with Siddique Lone, who was working as a reporter for County News at the time of his arrest, he expressed bewilderment over the circumstances surrounding their detention. He stated that "we had merely intended to draft a report to inquire about an incident, and to their surprise, we were apprehended. "Their arrest left them without the ability to communicate with anyone.
"We spent three days in jail, and after that, we were granted bail, but because the current government was involved in this case, as soon as the government changed, the police couldn't pursue our case any further, and it was eventually dropped." Lone disclosed.
In a recent exchange, Amir ud Din Mughal, a Kashmiri journalist, revealed that In AJK, "the prevalence of the fraternity system stands out as a primary source of pressure on journalists". However, when we examine the broader landscape, it becomes clear that the challenges journalists face cannot be attributed to any single entity. Journalists frequently encounter pressure from government officials, law enforcement, bureaucrats, and politicians.
Mughal stated, "In the past, there was an incident on October 22, 2019, where the police assaulted the press club, using both bullets and projectiles. This resulted in a confrontation involving the Companions. When such an occurrence, like the police attacking the press club, takes place, it raises significant concerns about the safety of both the lives and assets of journalists in this area."
Local police conducted a raid on a press club during a media briefing hosted by the Jammu Kashmir People's National Alliance (JKPNA). During the raid, police employed tear gas, wielded batons, and damaged journalists' recording equipment. The operation resulted in injuries to several protesters and journalists present. The police were summoned to the press club with the aim of preventing the nationalists from conducting their press conference there. Conversely, the standpoint of the press club is that it is our moral duty that anyone who comes here to raise their voice should not be subject to arrest.
Addressing another crucial matter, he pointed out that in AJK; there is a notable absence of legislation aimed at safeguarding the rights and well-being of journalists. Neither is there any legal provisions ensuring economic security nor protective measures for those facing life-threatening situations. Consequently, there seems to be no effective mechanism for the legal protection of journalists, and even if such mechanisms exist, they are rarely enforced.
The police department stated, "Our utmost priority lies in safeguarding the well-being and security of journalists. We are dedicated to creating a safe atmosphere where journalists can perform their crucial duties without any apprehension or pressure. We pledge to conduct comprehensive and unbiased investigations into any reported incidents, demonstrating our unwavering commitment to upholding the values of press freedom and justice within our region."
Nasreen Sheikh, a female journalist, raised concerns Violence against journalists trying to gather information remains a significant issue. She clarified that even in situations where information is not readily accessible, journalists attempting to gather it through their own means frequently encounter instances of violence.
You May Also Read: Unveiling Challenges: AJK Journalists' Struggle for Expression
"I believe that by gaining access to information, we would comprehend the extent to which journalists are safeguarded and supported, and how the government is diligently fulfilling its responsibilities," Sheikh added
Furthermore, she remarked that numerous organizations have been established in Azad Kashmir, but regrettably, most of them remain inactive. The TV Journalists Association stands out as an exception, having made substantial contributions. However, beyond that, other organizations like the Central Union of Journalists (CUJ)'s performance is practically non-existent. Many organization members often hold positions like president and secretary, yet there is a lack of meaningful engagement or efforts on their part.
In their 2021 study, "Journalistic Challenges in Conflict Zones: Muzaffarabad vs. Srinagar," researchers Mubashar Naqvi and Quratulain Shabir highlight the pressing issues faced by journalists in these turbulent regions. They emphasize the absence of dedicated media protection laws, underscoring the urgent need for legal safeguards to ensure journalists' safety and freedom. The study identifies distinct challenges in Muzaffarabad, including issues related to media ownership, financial constraints, and limited access to government information. Conversely, journalists in Srinagar contend with additional obstacles imposed by administrative and law enforcement authorities. Overall, the research highlights the more formidable hurdles faced by journalists in Srinagar, emphasizing the critical importance of establishing robust legal frameworks and support systems to enable their work in conflict zones.
Note: This story is part of a Pakistan Press Foundation Fellowship.
Hits: 60