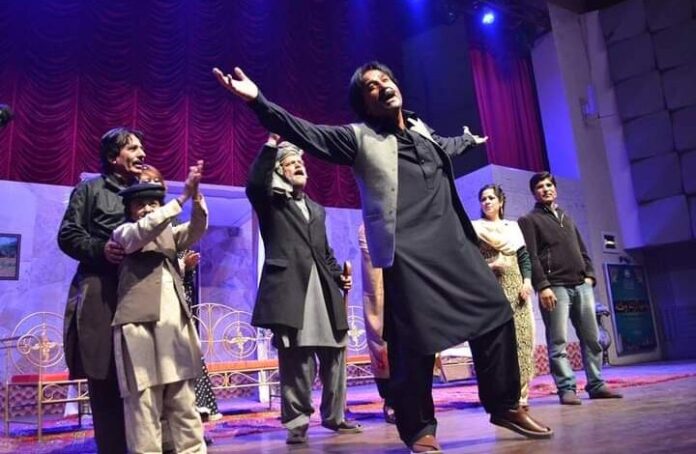 Asmat Khan
The Artist Action Movement, representing artists in Khyber Pakhtunkhwa (KP), along with other cultural organizations, has strongly denounced the exclusion of Khyber Pakhtunkhwa, particularly Pashto theater, from the "Pakistan Theater Festival" organized by the Karachi Arts Council, commencing on September 8. They are demanding immediate attention to this bias, highlighting that theater groups and artists from Punjab, Sindh, and various regions, including foreign participants, have been featured in the festival, yet there's a conspicuous absence of KP and Pashtun artists.
Dr. Niaz Ali Khan, Chairman of the Action Movement, Tariq Jamal, Vice Chairman, renowned artist Arshad Hussain, and other members have voiced their concerns. They question why the Pashtun community isn't being given the opportunity to showcase its artistic talents when artists from around the world can participate. They emphasize that those responsible for this exclusion may not be aware of the rich theatrical history in the region.
They cite the pioneering efforts of Khan Abdul Ghaffar Khan, known as Bacha Khan Baba, who initiated Pashto theater named "Dre Yateeman" (Three Orphans) in an independent school in Atmanzai, a village in Charsadda, under the Khudai Khidmatgar Tehreek umbrella in 1927. Even decades before this, Peshawar was a prominent theater hub in the subcontinent.
Also Read: Five Family Members Killed by Mortar Shell in North Waziristan
They assert that Pashtun artists have made significant contributions to India's entertainment industry for many years. They argue that the absence of Pashtun representation in a festival that showcases the world's diverse cultures raises questions of fairness and potential prejudice against Pashtun artists.
Expressing their disappointment, they lament the lack of representation for their region in such a significant national festival. They highlight the challenges and hardships faced by the Pashtun community over the past few decades, including unrest, terrorism, lawlessness, and other serious issues. They question why such a festival couldn't be organized in Khyber Pakhtunkhwa or involve artists from the region.
In light of these concerns, they call on the provincial government, particularly the Culture and Tourism Authority, to address these issues and rectify the injustices faced by Khyber Pakhtunkhwa and Pashtun artists.
Hits: 5