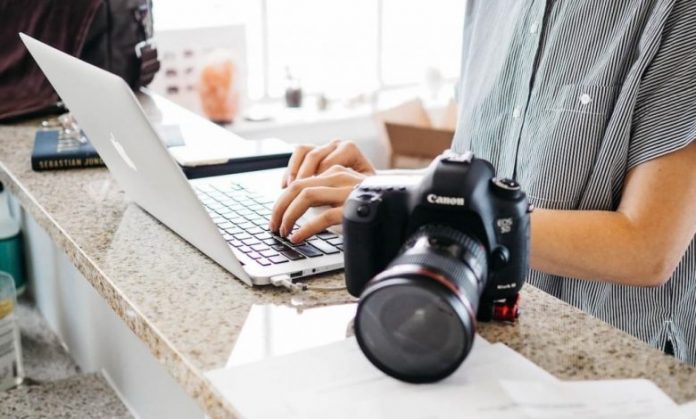 Alisha Andleeb
"Sardar Tanveer Ilyas, the former Prime Minister of Azad Kashmir (AJK), intended to question Pakistan's Prime Minister, Shehbaz Sharif, during the inauguration of Mangla Dam Units 5 & 6 on December 5, 2022. However, the security personnel of the PM prevented him from speaking. If the Prime Minister of this region can be treated this way, then what standing do journalists even have?" Kashmir-based journalist Syed Nadeem Shah expressed when asked about instances where journalists from Azad Kashmir faced obstructions from Pakistani politicians.
Kashmir is the Jugular Vein of Pakistan, and no nation or country is acceptable without it. If Quaid-e-Azam Muhammad Ali Jinnah were still alive, he would have witnessed the extent of damage done to this vein by stifling Kashmir's voice. Even journalism, the fourth pillar of the state of Kashmir, is now in a dilapidated condition.
For several decades, whenever officials from the federal government administration visit AJK State, local journalists have been denied the right to ask questions. In some cases, they are prohibited from presenting questions, and in others, the number of questions they can ask is limited. To uncover the reason behind this treatment of journalists, insights were sought from prominent AJK journalist Syed Nadeem Shah, who is also a reporter at News One News HD, a column writer, and a freelance journalist. While discussing the matter, he explained that there are two aspects at play: Pakistani leaders and politicians.
Also Read: Chairlift Incident: 3 Rescued After Rope Breaks
Whenever a Prime Minister from the capital area visits this region, the prevailing government policy dictates that local journalists do not engage in direct communication with them, nor are they granted direct media interaction. On such occasions, the Prime Minister exclusively communicates through PTV. In Azad Kashmir or Gilgit-Baltistan, private media entities are not allowed direct access to interaction. As for the leaders, they can be questioned during their meetings here, but there are certain constraints to consider.
"In my own experience, I wanted to talk to Imran Khan when he visited here on January 15, 2020, but I didn't get the opportunity. Even during visits by Nawaz Sharif and Shah Mehmood Qureshi, we were unable to speak with them. It's disheartening that while claiming to represent Azad Kashmir on the global stage, the inhabitants there are not afforded the privilege of exercising their freedom of expression," he added.
Another journalist, Amiruddin Mughal, confirmed this claim, saying, 'For quite a few years now, it has been observed that local journalists are frequently deprived of opportunities to engage with politicians or hold conversations. Even local publications in this region often publish news based on official government press releases.'
Continuing the dialogue initiated by Nadeem Shah, his main focal point revolved around the concept of "Baat Karain Gay Tab He Bat Ho Gi" – meaning, meaningful conversations will lead to fruitful outcomes.
When asked about his perspective on the lack of granted freedom of expression, his response acknowledged that AJK is a contentious area, and discussing it can lead to further complexities. He emphasized that it's essential for the government to be adequately prepared before visiting. However, during their visits, leaders often evade addressing questions. He suggested that a more constructive approach would involve acknowledging mistakes and offering apologies if feasible.
He shared an incident from a recent literature festival hosted at the PC Hotel in Muzaffarabad, AJK, where prominent journalists from Pakistan attended. Unfortunately, it was embarrassing that these well-known journalists were not familiar with the names of journalists from AJK.
However, there is a silver lining in the fact that journalists from Muzaffarabad manage to impact the local populace. Yet, they struggle to extend their influence to the broader population of Pakistan due to the absence of a dedicated private channel in AJK. Moreover, it seems that mainstream media may not find it necessary to extensively cover the Kashmir situation.
Concluding the conversation, he remarked that since AJK lacks formal statehood, effectively communicating its perspective to the wider international community remains a considerable challenge.
In response to this, it is crucial for Pakistan to ensure equitable opportunities for local journalists. Additionally, external entities should prioritize granting fellowships and scholarships to AJK journalists, enhancing their prospects for professional growth.
Shahid Nazir Mir, a student leader and social activist, while expressing his viewpoints, also noted, "We've witnessed another incident where Federal Minister for Kashmir Affairs, Ali Amin Gandapur, faced considerable public backlash over the Kashmir policy in Hajira. Remarkably, the PML-N government in AJK remained notably silent on the matter. This political unrest in the region has raised valid concerns."
The narrative took a significant turn upon conversing with another journalist named Muhammad Bashir Baig. Mr. Baig, who is also the Deputy Editor of the Urdu Newspaper Daily Rehbar, expressed, "I understand that there are certain limitations on the questions that can be asked. However, we also lack journalists of this caliber who can present high-quality inquiries to individuals of such prominence."
Citing numerous instances from the past, he illustrated that during Nawaz Sharif's visit to the Gulpur Hydropower Plant (GHPP), an operational run-of-the-river hydroelectric generation project located on the Poonch River, a majority of journalists were not extended invitations. Similarly, when the Mangla Dam Project was inaugurated in this region, a substantial contingent of Islamabad-based journalists attended, whereas the representation from AJK was notably sparse.
He stated that undoubtedly, the reality is that journalists are often denied the opportunity to question those in power. However, it's also crucial for journalists in our region to reflect upon this matter.
"It's worth noting that some journalists may not have received professional journalistic degrees. The difficulty of restricted educational access is substantial, but it's exciting to witness a good movement as more journalists obtain degrees, contributing to the state's success in journalism," Baig disclosed.
At the conclusion of the discussion, he openly expressed that when a journalist endeavors to grasp their responsibilities entirely, they will refuse to adhere to dictation or abandon their inquiries in the presence of any kind of pressure.
The Office of the United Nations High Commissioner for Human Rights report on the human rights situation in Kashmir from June 2016 to April 2018 states that media organizations in AJK and G-B exercise self-censorship as a precaution against potential state-related harassment. This approach is adopted due to the media's reliance on official advertisements for financial support. It has been reported that authorities have suspended advertising for media outlets that were perceived as excessively critical.
During a conversation with an information officer from PID AJK, she mentioned that adhering to the directives of the authorities is a priority for them. She also highlighted their efforts to provide opportunities for journalists to express themselves. However, it's noted that there's a protocol in place where only the Official TV network is designated to cover the leaders.
The experiences and perspectives of the journalists and human rights authorities underscore the necessity for a mutual effort. The national-level government should also ensure that local journalists are granted the freedom to express their views. So that they may bring their struggles to the spotlight around the world. Furthermore, journalists also need to improve their professional standards.
Our scheduled interview with a government official has been rescheduled due to a recent shift within the administration of Azad Jammu and Kashmir (AJK). Official obligations have been adjusted in response to the changing scenario. During this transitory moment, we are constantly investigating additional methods to deliver thorough insights into our news story.
Note: This story is part of a Pakistan Press Foundation Fellowship.
Hits: 54